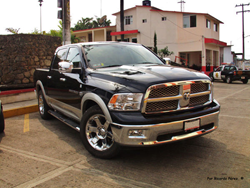 Enhancements to our rebuilding work has resulted in high quality builds without raising the price for our customers.
Boise, Idaho (PRWEB) November 05, 2013
Dodge vehicles have captured a large share of the U.S. auto market due partly to the technologies that are showcased in the parts used to produce these vehicles. The Powertrain Pros company has expanded its inventory this month and is now selling rebuilt Dodge transmissions at http://powertrainpros.com/rebuilt-dodge-transmissions. A special sale is now underway for all buyers.
The Dodge units that are now in place inside the company warehouse includes both mechanical and automatic gearboxes. The range of Dodge produced editions includes four and five-speed offerings that are now expected to help more buyers of replacement auto parts online. The remanufactured transmission inventory held at the Powertrain Pros company now features OEM compatible editions.
"Enhancements to our rebuilding work has resulted in high quality builds without raising the price for our customers," a source for the PowertrainPros.com company said. The Dodge editions that are now online are expanded efforts in inventory that are now underway at this company.
The General Motors inventory and Ford inventory that is already in place at the Powertrain Pros website has contributed to the sales success this company has reached in 2013. As a reconditioned gearbox company, the units that are for sale online feature two-year warranty plans instead of the simple one-year policies offered with used units often sold online.
"The arrival of remanufactured Dodge transmission units makes these editions eligible for the extended warranty service plans that we now offer with each sale that is completed online or by telephone," the source included.
The Powertrain Pros company has now established its national toll-free service center to accept all calls originating in any state in the United States. This system is now provided to help consumers order parts easier and help research the inventory that offered for sale.
The rebuilt Dodge units and other brands carried by this company can be researched through this new toll-free system or with the tools now available on the company transmissions website.
About PowertrainPros.com
The PowertrainPros.com company opened its official website online in the first part of 2013 to provide national access to its remanufactured transmissions for sale. This company reproduces Ford, Dodge, Chevy, Jeep, GMC and other units that are used in most American automobiles. The PowertrainPros.com website currently features a simple quotation system that allows any buyer of a transmission to receive online pricing. The established toll-free number in place is now introducing national customer service options for buyers not using the online services provided. Rebuilt units are added by this company monthly to expand its warehouse inventory.