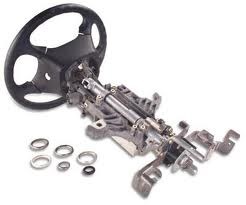 We're now featuring most automaker brands in rebuilt condition for buyers
Provo, Utah (PRWEB) August 03, 2013
The used auto parts industry in North America is filled with retailers and secondary distributors of major automotive parts. Some companies are now able to offer consumers a choice of reconditioned parts for different vehicles. The SteeringColumnsforSale.com company is now providing rebuilt steering columns at http://www.steeringcolumnsforsale.com/steering-columns online.
These units are now reconditioned by company specialists to offer consumers a like new condition wheel assembly. The cost of purchasing used equipment can be higher depending on if repairs are required after installations are complete.
These new rebuilt versions are creating a higher quality unit without extra costs of purchasing new components.
"We're now featuring most automaker brands in rebuilt condition for buyers," a specialist from the Steering Columns for Sale company said. Replacing defective units is one method that owners can use to improve levels of safety and vehicle durability.
Recent additions to the total inventory promoted online include Ford, Chevy, Dodge and other automaker types that are popular for replacement. The standard used and aftermarket editions that helped the SteeringColumnsforSale.com company to earn its reputation selling online are still offered for the published discount prices.
"We're now selling Ford, Chevrolet, Dodge and Jeep units as reconditioned too," the specialist added. Offering this variety is expected to increase company sales in 2013. This is combined with the current freight incentives that are supplied with all orders placed through the company toll-free number at 1-866-469-1209 or online.
Company updates are expected to continue being announced through standard media channels online. Consumers following company updates can keep track of all pricing and warranty information by utilizing the systems for price quotations now installed for use online.
About SteeringColumnsforSale.com
The SteeringColumnsforSale.com company retails its units for discounted prices on its website for consumers. This company has maintained its secondary market seller reputation due to pricing and distribution options provided to buyers in the U.S. Multiple types of steering wheel columns are now supplied by this company as an alternative to standard new types sold through dealerships. The SteeringColumnsforSale.com company specialists receive inventory from more than one source in United States. This company has expanded into domestic and foreign inventory to offer more selections for replacement.