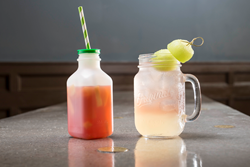 "Rec Room PVD was an opportunity to connect everything I've picked up...You won't find anything like it in Rhode Island." - Marvin Barksdale, co-owner
Providence, RI (PRWEB) September 11, 2017
Rec Room PVD opened September 7, 2017 with a menu that satisfies those who love ballpark food but crave thoughtful flavor pairings and occasional hints of spice. The team drafted a starting line up of ballpark fare, then stepped up the flavor profiles by infusing ingredients from Korean, Thai, Japanese, Spanish, and American cuisine. Nosh on:
Habañero Kimchi Wings
Curry Coconut Wings
The Parker Burger with miso marinated yellow onions charred, pureed and mixed into the meat
Churro Ice Cream Sandwich lightly dusted with cinnamon sugar
House cured, fried, and skewered Bacon On A Stick, dipped into a bourbon-maple glaze and dusted with local tomato powder
The hot dog program includes eight different dogs, including:
Olneyville-Adjace Weiner, a beef and pork smoked dog, served with crispy onions, a tangy chili sauce, and spicy bacon jam
DET Striped Pig Pork Frank with Bacon on a Stick inside the bun served with mustard and maple bacon glaze
BAL DMV Beef and Pork Dog served with Old Bay chips, Louisiana pure aioli, and sauteed peppers and onions
"I'll look to chili powder, coriander, or paprika before I look to salt," said Culinary Director Dom Hayman. "That's part of my cooking style." As for his tendency to play with spice, Hayman said, "The spice will be evident but not overpowering."
Alongside a ballpark-inspired menu, patrons will sip craft beers and cocktails influenced by famous outdoor sporting events around the world, including:
The Melon Ball Punch, a nod to the US Open. Served in a Collins glass, the cocktail is a swirl of vodka, lemonade, and raspberry liqueur, with a frozen melon ball as garnish.
The Nutcracker, popular at New York City street basketball games. Sip a blend of vodka, amaretto, 151 or Overproof Rum, triple sec, lime juice, grenadine, and pineapple juice through a colorful straw.
Rec Room PVD is open 4-10 p.m. daily.
Rec Room After Hours is open 10 p.m. - 1 a.m. daily.
Sporting events will be as much of a draw as the food. With a 150-inch projector screen and four additional TVs, Rec Room PVD will host a number of door charge events coinciding with popular live events such as Pay Per View matches, championship sporting events, and award shows. The rare indoor bocce court will host gaming tournaments and a regular bocce league, without disrupting service on the main floor. Private event hosts will enjoy several setup options.
At 10 p.m., Rec Room After Hours will pump curated dance music from a custom built, floating DJ booth. Guests will enjoy top grooves from the 1980s to the current year. With co-partner Marvin Barksdale's connections to the music industry, top name DJs are expected to fill out the lineup.
Behind the launch of Rec Room PVD is the story of Marvin Barksdale, a Brown graduate who cut his teeth developing and operating restaurants in New York City, striking culinary and pop culture gold with Seoul Chicken, which was reviewed by the New York Times and GQ. Seoul Chicken became a destination for art exhibits, book signings, and entertainment and media insiders. Celebrities A$AP Rocky and Bobby Schmurda were patrons.
Now, Barksdale brings his star-studded success to Providence, where he went to college and has lived intermittently since 1998. While Barksdale has launched restaurants for others, Rec Room PVD is the first restaurant he has designed, curated, and owned -- down to sanding the maple molding.
"I've spent most of my career looking for 'white spaces' where I can partner with creatives in building one of a kind narratives," said Barksdale. "Rec Room PVD was an opportunity to connect everything I've picked up regarding design aesthetic, legal affairs, business development, and restaurant operations to serve a city I've loved for nearly twenty years. You won't find anything like it in Rhode Island."
Culinary Director Dom Hayman and Operational Director Jasmine Beidleman are Barksdale's co-partners. Hayman is a Johnson and Wales graduate who met Barksdale in college as members of the same cross-campus fraternity, Kappa Alpha Psi. Previously, Hayman worked at Costantino's Venda Ravioli, Federal Reserve Event Space at The Dorrance, and Shula's Grill at the Providence Hilton. Rec Room PVD is his first gig as Culinary Director. Beidleman brings a wealth of experience in restaurant operations and culinary management, which will be vital to the success of Rec Room PVD. She has served as operations manager at Seoul Chicken, Soul of the Space Catering, and Lott 77, all in New York City.
About Rec Room PVD
Rec Room PVD is a restaurant and nightclub located at 383 Admiral Street in Providence. The Chef's ballpark menu features high-end treatments of sporting classics like hot dogs, fries, and chicken wings. Rec Room PVD is the only restaurant in Providence to feature an indoor bocce court. Large screen TVs will broadcast major sporting events. Dinner is served daily from 4-10 p.m. At 10 p.m. Rec Room After Hours, a nightclub space pumping dance music from a floating DJ booth, opens. Rec Room PVD is also available for private events. Recroompvd.com launching soon.
###