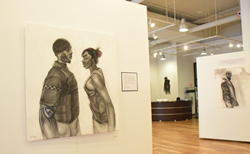 "Hearing Jesse's passion for these societal challenges takes his images to an even deeper level." - Shelley LaMantia, director, State Street Gallery
CHICACO (PRWEB) September 30, 2019
The State Street Gallery at Robert Morris University Illinois, 401 S. State Street in Chicago, will hold an artist's reception on October 3 from 5:00 to 7:00 pm for an exhibit by Maywood artist Jesse Howard. The show, entitled "The Love & Hate of a Culture in Defiance," consists of several of Howard's works depicting portraits of African Americans in various positions of emotion and raw humanity. The figures depicted may be homeless or in some way disenfranchised. "For being homeless is being barely visible," the artist explained. "When one looks at the faces, my audience must acknowledge their presence against disappearing."
Shelley LaMantia, director of the State Street Gallery, finds the exhibit to be visceral in its impact. "The story, concept, and catalyst behind artwork is most often just as interesting as the work itself," she said. "In the case of Jesse's work, it is truly significant. Listening to those stories, and hearing Jesse's passion for these societal challenges takes his images to an even deeper level."
Doug Stapleton, Associate Curator of Art at the Illinois State Museum comments, "In Awkward Encounter, a woman confronts a police officer with her direct steady gaze and words, catching the officer off guard. The piece is subtitled "Two Individuals on Opposite Sides of a Social System that Needs to be Challenged." Both individuals are African-Americans situated on opposing sides of a protest, she representing the challenge, he the system. If we could hear the confrontation, what is being said? This question is the over-arching subject matter of Jesse Howard's work—the voice and agency of black lives."
Additionally, in this show Howard has added the voices of students from Proviso East High School in Maywood IL through comments written on large sheets of distressed paper. These sheets, dispersed among Howard's figures add another voice to his artistic engagement with community—the next generation coming up into their present moment.
"The Love & Hate of a Culture in Defiance" continues at the State Street Gallery through October 31. It is open Monday – Thursday, 10:00 a.m. to 6:00 p.m. The gallery is FREE and open to the public.
Robert Morris University Illinois is a not-for-profit, baccalaureate and graduate degree granting institution, accredited by the Higher Learning Commission of the North Central Association of Colleges and Schools.* The University serves students interested in getting an education in business, graphic arts, nursing and health care, culinary and computer studies at its main campus in Chicago, as well as at locations in Arlington Heights, Elgin, Orland Park, Peoria, and Lake County. In all communications, please refer to the university by its full name, Robert Morris University Illinois. *Higher Learning Commission of the North Central Association of Colleges and Schools, 30 N. LaSalle Street, Chicago, IL 60602, 312-263-0456.