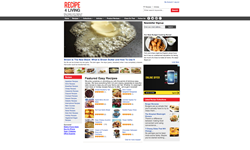 "It was time for Recipe4Living to get an update. We focused on the visual aspects of food and cooking throughout the new design to ensure that Recipe4Living offers up something unique for home cooks." - Dennis O'Connel, CEO of June Media
New York, New York (PRWEB) October 30, 2013
June Media's flagship recipe website, Recipe4Living, has undergone a site redesign to better serve its customers with thousands of easy recipes that families will love.
"It was time for Recipe4Living to get an update. We focused on the visual aspects of food and cooking throughout the new design to ensure that Recipe4Living offers up something unique for home cooks," says Dennis O'Connell, CEO of June Media.
Recipe4Living's redesign places an emphasis on the visual aspect of food and creates a dynamic experience for each visitor, allowing them to rate recipes, save dishes to their recipe box, and easily share their favorites on Facebook and other social media channels.
The new site is designed to encourage a fun recipe exploration or specific searches, while slideshows, dynamic content elements and more visuals throughout, drive home the refined user-experience of the site.
Recipe4Living's content is created by home cooks and food bloggers, and includes over 25,000 quick and easy recipes plus thousands of informative and entertaining articles. With the tagline of "Easy recipes and a helping of fun from home cooks like you," Recipe4Living is poised to cater to home cooks looking for quick and easy recipes and inspiration worldwide.
To celebrate the launch of the Recipe4Living redesign, Tropical Smoothie Café is offering a $250 gift card to one lucky winner. Those interested can enter at http://www.recipe4living.com/giveaway between November 1, 2013 and December 31, 2013. The winner will be chosen on January 6, 2014. Those who enter will also be subscribed to the new Recipe4Living Daily Recipes newsletter. Those interested in signing up can do so by going to http://www.recipe4living.com/index/subctr in their browser.
June Media's properties include the flagship recipe and cooking site Recipe4Living, visual recipe search site SavvyFork.com, working mom site WorkItMom.com, health and beauty counterpart FitandFabLiving.com, and lifestyle blogs Chew On That and Running With Mascara.
About June Media
June Media, Inc. is a privately held company with offices in both New York and Chicago. June Media is a leading content provider for women as well an affiliate network that enables its advertising clients to generate high volumes of top-quality customer leads and sales on a pay-for-performance basis.