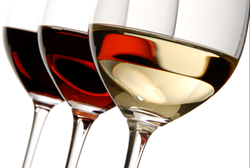 In general, the wine should complement the dish being served.
Fort Lee, New Jersey (PRWEB) September 21, 2013
At one time or another, most people are faced with selecting the wine to serve with a special meal they've prepared for a dinner party, or a holiday. For those inexperienced at pairing wines with meals, this can be a daunting task. In the latest blog from Marble Media LLC's RecipeIdol.com titled "The Basics of Wine Pairing," guest blogger Liz Ernst advises readers to familiarize themselves with the basics of wine pairing ahead of time if they want to choose a special wine to enhance the meal being served.
"For those hosts and hostesses who understand wine well and even consider themselves to be connoisseurs, the first rule is that there are no rules when matching favorite wines to favorite meals," Ernst says. "But for people who don't know much about wine, it's best to follow the basics at first, especially if any of your guests are knowledgeable about wine."
"In general, the wine chosen should complement the dish being served," Ernst says. "Acidic wines such as a Sauvignon Blanc pair nicely with sour, acidic, or salty foods since the acidity cuts the saltiness for a nice balance."
Sweet Wines go well with sweet foods. The sweetness of the wine and the sweetness of the food will cancel each other out, although it's important not to pair a wine with food that is sweeter than the wine.
Dry (red) wines, such as Merlot, have a high level of tannins and will make bitter foods taste less bitter. Tannic wines are also calmed by protein, making rare beef an excellent choice for pairing.
There are many additional aspects to consider when wine pairing, according to Ernst. Pairing light-bodied wines with lighter food, for instance, and fuller-bodied wines with heartier, more flavorful, richer and fattier dishes is a general rule of thumb. In addition, it's important to consider how the food is prepared and the resulting flavor.
"Match the flavors of the food with the wine," Ernst says. "It's important to read the wine notes or the back of the label for information on what flavors are dominant in a wine."
"If you're willing to take some risks, your can try creating new flavor combinations by pairing opposites; hot or spicy food works best with sweet dessert wines."
The goal of pairing wine and food is to create synergy and balance. The food and wine should complement one another, and not be overpowering. A perfect wine and food match will bring out the nuances and enhance the flavors and unique characters of both the food and the wine.
Of course, when in doubt, take to the Internet and search for recommendations.
For more information on the underwater wine experiment, visit RecipeIdol.com, or email info(at)recipeidol(dot)com.
About Marble Media LLC:
Marble Media LLC is a creator of high-quality, content-rich blog sites that provide expansive coverage of relevant information to readers who make up a wide range of demographics. The Marble Media LLC team of expert writers covers a wide range of specialties including travel, food, health, fitness, social media, marriage, parenting, technology, weight loss, fashion and much more.
For more information on Marble Media LLC's offerings and advertising opportunities, visit the MarbleMediaLLC.com website, or email sales(at)marblemedia(dot)com.