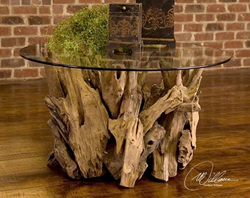 No two driftwood tables are exactly the same. Their unique natural variations that each one a distinctive, one-of-a-kind natural character.
(PRWEB) March 18, 2014
HomeThangs.com – the Online Home Improvement Store has made their goal to deliver the right product to the consumer. With that in mind, shopping and home design tips, as well as special product selections are being introduced.
Rustic, reclaimed wood has become a very trendy material in home design, from floors and wall accents to furniture and everything in between. But it's rare to be able to showcase wood in its natural form – even heavily weathered wood still bears a stamp of human craftsmanship as it was once cut and sanded and turned into planks. HomeThangs.com has introduced a guide to a rare exception: tables made with totally unfinished wood like branches, roots, or driftwood.
Ornamental pieces of wood – especially driftwood – are often used for decoration, but usually in a relatively small format, like small tabletop statuary or at most a single piece of shapely wood hung on the wall like a mantel or trophy. But when done right, natural, reclaimed wood can be practical as well as decorative. One of the most common ways to turn unusually shaped pieces of wood into functional furniture is to arrange them so that they can support a large round piece of glass to form a unique accent table.
Using glass for the tabletop is ideal because it showcases the wood without any obstructions. It also allows the wood to be arranged in more unique and interesting shapes and patterns; all the individual, odd-shaped pieces of wood might not form together into the cohesive surface to make a functional tabletop, so putting a sheet of glass on top not only makes the piece usable but also offers a close-up look at the quirks and imperfections of the reclaimed wood.
That said, there are also accent tables that are made entirely out of small pieces of reclaimed wood. Rather than having a glass tabletop, these are generally smoothed out on at least the top surface so they can be used as a tabletop as-is. These can either be made out of a single large piece of finished wood (like a polished tree stump), or out of many smaller pieces carefully interwoven and assembled to create a more-or-less solid shape.
It's important to note that, when made of genuine reclaimed wood, no two of these tables will be exactly alike. While the style and even arrangement of the wood will be similar, because each piece is totally natural, there will be variations between them in terms of size, color, and shape. It's important to keep this in mind when shopping online or through a catalog rather than in person, because the final product likely won't be the exact one advertised.
Reclaimed driftwood tables that are made from many smaller pieces of wood that form a larger shape will be a bit more consistent in terms of their silhouette. Each piece is hand chosen to fit together to create a specific design, but the actual pieces that go into building the base of these tables can be quite different, both between tables and even from one leg to the other. Together, this creates a consistency of overall appearance while adding beautiful, unique detail on a closer inspection.
On the other hand, tables that are made from a solid piece of reclaimed wood – like polished tree roots or tree stumps – will have the greatest variation, for the simple reason that the entirety of the natural wood shape is left intact. Bulges of roots, protrusions in the bark, knots, and the concentric rings in the center of the table are all determined by the shape of the parent tree, which means each one is one of a kind and completely unique.
To see more beautiful driftwood and natural wood accent tables, check out the full article here.
HomeThangs.com is not only a home improvement superstore, it also provides expert design tips and a comprehensive shopping guide, taking the ideas from professional interior designers, and offering tips to the consumers on how to pick the products to best suit their needs.