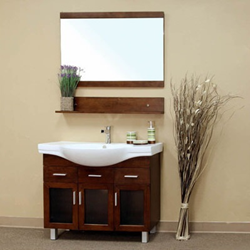 Reclaimed wood bathroom shelves are designed to stand out, adding simple lines and a nice pop of nature that can give the bathroom a relaxed, earthy, spa like look and feel.
(PRWEB) August 28, 2014
HomeThangs.com – the online home improvement store – has made their goal to deliver the right product to the consumer. With that in mind, shopping and home design tips, as well as special product selections are being introduced.
Reclaimed wood is a hugely popular material in home design right now. Often, that means bold, rustic features like hand scraped hardwood floors and weather-worn barn beams. But HomeThangs.com has introduced a guide to a slightly more subtle take on this trend: reclaimed wood shelves. These elegant, minimalist shelves have become especially popular in the bathroom, and offer a way to add storage in a small space while also making an eye-catching statement.
Ordinarily, bathroom shelves are made out of a material that blends in, but reclaimed wood shelves are meant to be a design feature, drawing attention to themselves so they have a stylistic impact on the room rather than just a functional purpose. To get this look, it's important to use boards that are hefty enough to stand out, and are bigger and more visually distinct than the average bathroom shelf.
As a design element, reclaimed wood is equal parts history and nature, but in a bathroom, it should skew more toward the latter. Heavy weathering, aging, and antiquing can easily make a bathroom seem dingy, so except with a very rustic style, opt for cleaner, more finished wood. That said, natural-finished wood is still something of a rarity in bathroom design, so simple plank style shelves will add a nice little pop of nature that can make the space feel more open and inviting.
Reclaimed wood shelves are also a fantastic option for a spa style bathroom, especially when coordinated with other wood elements in the bathroom, particularly the vanity. A very light, honey-toned wood produces a warm, relaxing glow and pairs beautifully with the sandy off-white stone iconic of a spa style. Hanging multiple long reclaimed wood shelves evokes the earthy warmth of the birch wood used in nordic saunas without making the space feel overly rustic.
Using just a few reclaimed wood shelves can also work well in an Asian-inspired bathroom, particularly to evoke the "zen" minimalism of a modern Japanese design. Long, slim shelves do this in two ways, by introducing a natural wood element to the bathroom, and by creating simple, bold, streamlined lines that give the space a nice sense of balance. Lighter wood tones have a warmer, earthier feel, while shelves with a slightly darker finish create more intense, dramatic lines.
This is actually one of the ways that reclaimed wood shelves can really shine: they can be used like brush strokes, creating simple, elegant lines that direct the eye throughout the bathroom. One long shelf that starts beneath a mirror and runs the length of the wall can create a lovely sense of flow, while multiple shelves arranged asymmetrically can alter the balance of the space and give the bathroom a more modern sense of geometry. Especially in a simple, modern bathroom, reclaimed wood shelves add a pop of color and a visual guide to see the space in a slightly different light.
Reclaimed wood shelves are also perfect for making small gaps or awkward spaces more functional. Stacked horizontal shelves are a very practical storage option, and while with another material they might feel mundane, using hefty, attractive wood planks can make even the most ordinary storage spot into a unique and attractive display. A series of reclaimed wood shelves are a much more attractive alternative to the traditional over-john storage cabinet, and many designers are opting to recess a space into the wall beside the toilet, alongside the tub, or in other solid-yet-unused areas that can easily be bumped in to create additional storage.
To see some gorgeous reclaimed wood shelves in a variety of bathroom installations, check out the full article here.
HomeThangs.com is not only a home improvement superstore, it also provides expert design tips and a comprehensive shopping guide, taking the ideas from professional interior designers and offering tips to the consumers on how to pick the products to best suit their needs.