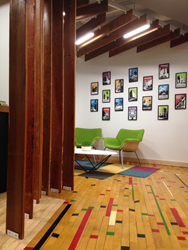 "Sourcing this so close to our headquarters, from a school I attended and specifically from a gym I played sports in, was remarkable."
Syracuse, New York (PRWEB) September 09, 2015
Two local businesses have teamed up to make a workspace a little more fun for employees at a Syracuse, NY architectural and interior design firm. Ashley McGraw Architects collaborated with Pioneer Millworks, a Farmington, NY-based reclaimed wood company to bring reclaimed gym flooring and bleacher boards into the design firm's remodeled office space.
The material was sourced from Geneva Middle School, just 55 miles from Ashley McGraw and 28 miles from Pioneer Millworks. "Sourcing this so close to our headquarters, from a school I attended and specifically from a gym I played sports in, was remarkable," shares Jered Slusser, reclaimed wood expert at Pioneer Millworks. "When Ashley McGraw reached out looking for reclaimed wood for their office remodel, I knew immediately that we had the right product. It is a great fit and it feels good when a local company gives reclaimed wood a second life."
Ashley McGraw specializes in school design and they were excited to bring iconic school building materials into their space. The office remodel utilized Geneva Middle School bleachers and gym flooring. Original surfaces were maintained allowing the mixture of court lines and varying school colors to be celebrated. "It looks like confetti!" said Susan Angarano, interior designer with the firm. Tonal differences from the various schools helped create a border from the circulation spaces into the office areas at the company. Bleacher boards were incorporated as screen walls and ceiling accents.
The Pioneer Millworks team salvaged the hard maple flooring and Douglas fir bleachers from the 1920s gymnasium during the building's deconstruction. Special attention was given to maintaining the original appearance of the wood, including surface finishes, bolt-holes, colors, and milling.
"Gym flooring is one of our most colorful reclaimed products with a history most folks quickly relate to," says Slusser. The painted planks from the gymnasium were sorted from the others and used in the circulation spaces of the office, while a small balance of flooring from two other schools was used in the materials library. The old gym flooring has varying lengths, some up to five feet long while the bleachers boards are up to sixteen feet long.
Both NY companies have found likeness in their commitment to sustainability and conserving the world's resources. "Every day, we challenge ourselves to embrace the possibility of a fully sustainable world," states Ashley McGraw. "Our contribution is schools and campuses that respect, support, and nurture the learning experience and work in concert with the earth and its resources."
David Ashley and Ed McGraw founded Ashley McGraw Architects in Syracuse in 1981. Their work includes classrooms, laboratories, recreational, and residential buildings, as well as sustainability strategies and master plans for public and private primary, intermediate, secondary, and high education facilities.
Pioneer Millworks is the leader in the reclaimed wood industry. To date, they've rescued nearly 24 million board feet of old wood from rot and landfills, giving it new life as flooring, paneling, millwork, cabinetry, and more. All wood is manufactured in a way that's healthy for customers, employees, and the environment. Pioneer Millworks is FSC certified and Green America approved. All of their products are LEED point eligible.