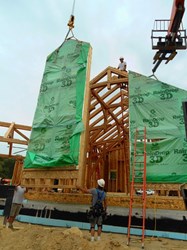 Timber frames are an ideal structure for wall systems as they allow the structure to be enveloped fully, by wide-span panels, with little to no thermal bridging
Farmington, New York (PRWEB) November 29, 2013
New Energy Works Timberframers crafted a North Carolina family home from over 500 agricultural salvaged oak timbers. Creating an energy efficient structure, the company's construction team enclosed the frame with a new 2x10 version of their proprietary layered poly-iso Matrix Wall system.
"Over 25 years we've consumed about 2 million square feet of Structural Insulated Panels (SIPs). While we continue to use SIPs in roof applications, we've developed another solution, the Matrix Wall, that allows easier installation of mechanicals while achieving an insulation value of R-30 or better," explains Jonathan Orpin, owner, home designer, and builder at New Energy Works.
In an effort to raise installation efficiency and minimize time on the job site, while still maintaining critical insulation effectiveness, New Energy Works construction and engineering teams, began developing the proprietary matrix wall system. The system, used in November to enclose the reclaimed oak frame, is the first to take advantage of greater insulated value by using 2x10 rather than the traditional 2x6 construction. Matrix Wall panels are open on the interior allowing easy fitting of electric, plumbing, and other mechanicals before cellulose insulation is blown in place.
"Timber frames are an ideal structure for wall systems as they allow the structure to be enveloped fully, by wide-span panels, with little to no thermal bridging. The walls are designed as a series of panels, as large as can possibly be loaded on a truck, preassembled offsite in our shop. Once they arrive at the jobsite they are rapidly installed, typically with help from a crane," continued Orpin.
The rich tones, stability, and history of reclaimed oak (sourced by Pioneer Millworks), combined with the Matrix Wall system was the right fit for the North Carolina homeowners aesthetic and practical needs. As the raising and enclosure wrapped up, the homeowners noted, "Of course the timbers are spectacular as is the crew, but we should note that the wall guys deserve as much credit – what they do is not as glamorous but they have been incredible too."
The matrix assembly uses a conventionally framed wall with either wet-sprayed or netted dense-pack cellulose on the inside and a polyisocyanurate foam on the exterior. It offers negligible thermal bridging and a managed dew point. Ensuring thermal performance includes a few additional steps: foam sheathing all seams, taping housewrap, flashing windows, and as with all tight homes, consideration to a ventilation system to balance and control internal moisture is also necessary.
New Energy Works Timberframers have been designing and building environmentally responsible timber frames across the USA for nearly 30 years from their facilities in New York and Oregon. Offerings include: Timber Framing (design, engineering, manufacturing, installation), Enclosure Systems, Fine Woodworking, Recycled and Sustainable wood products. New Energy Works has two LEED AP staff members, is a member of the US Green Building Council, and is FSC Certified.