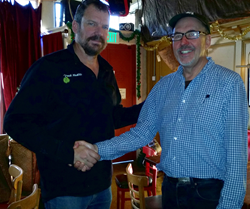 We're able to bring a desired product to our clients, and at the same time donate a percentage of our sales to help the indigenous peoples of Indonesia
Farmington, NY (PRWEB) January 31, 2015
At Pioneer Millworks 1% of all reclaimed Teak sales are donated to conservation causes in Indonesia and Malaysia. The 2015 recipient was the Borneo Project who for 30 years has been working with indigenous people on the island of Borneo to fight ill-advised dam projects and other causes of the loss of their habitat.
"When we made the decision to carry reclaimed Teak products we first confirmed the working and manufacturing conditions in the production facility met our high standards for ethical treatment of people and planet," explains Jonathan Orpin, owner and founder of Pioneer Millworks. "Next we determined that at minimum 1% of our sales of reclaimed Teak would go back to helping the people in Indonesia and Malaysia." Dilapidated Indonesian structures are now being modernized and updated. Pioneer Millworks is coordinating with their Indonesian partners to create jobs with responsible working conditions within Indonesia.
Teak is best known for its beauty, strength, resiliency, color, and clean grain. Reclaimed, old growth Teak has abundant heartwood and natural oils, which protect the wood giving it unmatched durability and beauty as well as a long life as flooring, furniture, cabinetry, stairs, and more. Having withstood hundreds of years of use, reclaimed Teak has been naturally patinated by nature and time. Pioneer Millworks is offering solid and engineered Teak flooring and paneling with three different surfaces: smooth, patina and wire brushed and a variety of custom finishes, as well as: plywood teak paneling, siding, and a special collection of the Colors of Indonesia.
"By stepping out of our domestic focus, we're able to bring a desired product to our clients, and at the same time help support the growth of a developing community – and donate a percentage of our net profits to help the indigenous peoples of Indonesia," said Jennifer Young, General Manager of Pioneer Millworks.
Sources of Teak have not been without controversy. Pioneer Millworks cautiously and thoughtfully developed their Teak collection, investing years of research and travel to Indonesia to ensure the products are sourced in a way that meets their demands for ethical treatment of employees and the environment. The production facility and reclamation processes adhere to the strictest international standards for processing and manufacturing while being healthy for the planet and for people. In addition, the Reclaimed Teak collection is Forest Stewardship Council Certified.
The Borneo Project brings international attention and support to community-led efforts to defend forests, sustainable livelihoods, and human rights. We believe that protecting human rights and environmental integrity in Borneo is a critical component of the global movement for a just and peaceful world.
Pioneer Millworks is the leader in the reclaimed wood industry. To date, they've rescued nearly 24 million board feet of old wood from rot and landfills, giving it new life as flooring, millwork, cabinetry, and more. All manufactured in a way that's healthy for customers, employees, and the environment. Pioneer Millworks is FSC certified and Green America approved. All of their products are LEED point eligible.