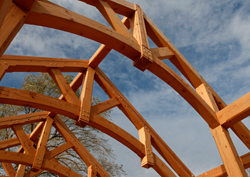 Besides the positive environmental impact of building with reclaimed materials, we were interested in the character, old-growth quality, and story this wood brings to our home
Farmington, NY (PRWEB) January 31, 2015
Salvaged from industrial buildings, antique timbers were repurposed and crafted into the posts and beams of a New Energy Works home near Canandaigua Lake, New York, which is scheduled for completion in March 2015. The Douglas fir timbers were reclaimed from dilapidated clothing factories, furniture factories, and even a prison by Pioneer Millworks, sister company to New Energy Works.
"Twenty five years ago, we started our sister company, Pioneer Millworks, to support our reclaimed timber frame building habit," states Jonathan Orpin, owner and founder of both companies. "Thanks to having one of the largest reclaimed timber inventories on hand, we're able to pass on savings, history, and green aspects of reclaimed wood directly to our clients."
The salvaged Douglas fir timbers were re-sawn and hand crafted with traditional mortise and tenon joinery. Antique timbers provide extraordinary stability, character, and history unmatched by fresh sawn timbers. Both interior and exterior timber frame components on this lake home are reclaimed Douglas fir. While the great room features trusses with double sawn bottom chords, the kitchen hosts a timber coffered ceiling.
"Besides the positive environmental impact of building with reclaimed materials, we were interested in the character, old-growth quality, and story this wood brings to our home," says Maxine Bromfield, owner of The Vermont Street Project timber frame home in Portland, Oregon which was crafted with FSC Douglas fir industrial salvaged timbers from the Mersman Table Factory.
Fresh timber needs to be kiln dried, and even then it may continue to move as the wood dries, possibly creating joinery gaps, and in some cases causing issues with drywall and other surfaces. Conversely, reclaimed timbers have been drying for generations, and are therefore less likely to move. Signs of previous life such as bolt and nail holes, ferrous staining, and insect trails add to the visual appeal of antique timbers. Typically these timbers are re-sawn to meet the needs of their new home. Hand-hewn surfaces of old agricultural timbers are often left intact, even using original mortise and tenon joinery where the design allows.
New Energy Works Timberframers have been designing and building environmentally responsible timber frames across the USA for nearly 30 years from their facilities in New York and Oregon. Offerings include: Timber Framing (design, engineering, manufacturing, build), Enclosure Systems, Fine Woodworking, Recycled and Sustainable wood products. New Energy Works has LEED AP staff members, is a member of the US Green Building Council and is FSC Certified*.
*FSC-C109137