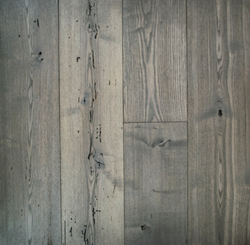 One of the cool parts about these finishes is that they don't cover up signs of previous life inherent in reclaimed wood – they enhance it
Farmington, NY (PRWEB) May 13, 2016
Pioneer Millworks, the largest reclaimed wood company in the world, will share the latest in their reclaimed wood products at the 28th annual International Contemporary Furniture Fair (ICFF) at the Jacob Javits Center in NYC this May. Their newest offerings, Black, Grey, and White finishes, will bring a fresh take on a traditional colors to North America's platform for global design.
"Our reclaimed wood is prized for its history, character, tight grain patterns, and deep patina. We realized there was a possibility to further celebrate the antique wood with custom finishes. The cool part is these finishes don't cover up signs of previous life inherent in reclaimed wood – they enhance it," explains Jered Slusser, reclaimed wood expert at Pioneer Millworks.
With hundreds of species, grades, and finish combinations, Pioneer Millworks continually searches for exceptional surfaces and hues of reclaimed wood to add to their offerings. This year they're also unveiling a new exhibit at ICFF, which will showcase a variety of textures and finishes as well as their well-known products. The newest finishes are staples in nearly every design palette and most commonly requested by professionals and homeowners:

Custom Black Finished American Gothic Ash. Nearly opaque, this monochromatic finish has an urbane vibe. Pioneer Millworks custom multi-step, 0% VOC, oil wax finish has more complexity than store-bought black floor paint, and combined with light texturing, highlights the existing grain patterns of the wood. The clean, tight grain of the Ash continues to be visible through this mostly monochromatic black, deep grey, and occasionally dark chocolate-toned finish.
Custom Grey Finished American Gothic Ash. Great care was taken to formulate this multi-step custom grey finish, which has richness and depth. Leaning towards the warmer side of neutral, this 0% VOC oil wax finish has slight hints of chocolate and lavender. The inherently cleaner and tight grain of Ash allows for a more consistent tone, though darker grey tones will be achieved within character marks such as insect trails and nail holes.
Custom White Finished American Gothic Ash. Resembling a classic Scandinavian whitewash, this lightly textured product has a clean modern look, which allows for some natural wood undertones to read through the 0% VOC oil wax finish. Shades of white, sand, and light grey dominate for a bright yet soft-toned surface.
Though Pioneer Millworks offers the above custom finishes on American Gothic Ash because of its ideal grain and color, the multi-step finish can be applied to other products, though they note that the tone and effect will vary per species.
ICFF will take place at the Jacob Javits Convent Center in NYC with the Expo running from 10am-5pm on May 14-17. Pioneer Millworks will be located at booth #2520. "We're looking forward to sharing our reclaimed wood knowledge and experience at ICFF again this year," continued Slusser.
North America's premier showcase for contemporary design, ICFF annually lures those in determined pursuit of design's timely truths and latest trends to an encyclopedic exhibition of up-to-the-moment offerings, as well as a series of fascinating, fun, educational programs, and a packed schedule of exhibits and features.
Pioneer Millworks is the leader in the reclaimed wood industry. To date, they've rescued nearly 25 million board feet of old wood from rot and landfills, giving it new life as flooring, paneling, millwork, cabinetry, and more. All manufactured in a way that's healthy for customers, employees, and the environment. Pioneer Millworks is FSC certified and Green America approved. All of their products are LEED point eligible.