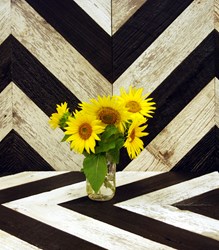 Using reclaimed wood in traditional patterns - wow, what an easy way to bring interest to a space!
Farmington, New York (PRWEB) September 30, 2013
Commercial, retail, and restaurant designers are spicing up projects, putting a twist on traditional patterns by using reclaimed wood. Pioneer Millworks is experiencing an upswing in requests for antique wood milled for herringbone, chevron, and other pattern applications.
"The well-known adage continues to be true: 'what's old is new again'," explained Jered Slusser, reclaimed wood design expert at Pioneer Millworks. "Designers are recognizing that an extremely classic pattern is refreshed when created using reclaimed wood. The unmatched character and history of the wood offers unique expression to old patterns."
Pioneer Millworks recently shipped out custom crafted chevron panels which will adorn the bar front in a Pennsylvania pub. The Sho Sugi Ban (a Japanese method of charring wood) was combined with antique white barn siding to achieve the familiar "arrow" pattern in black and white. Herringbone, another long-standing pattern, was used with Rail Yard Oak on the exterior entry of a retail store (which opened in August in Georgia), while a restaurant on the West Coast installed Black & Tan Oak flooring following the same pattern throughout their space.
"Whether on the floor, walls, or ceiling we're excited that there are more and more one-of-a-kind applications of reclaimed wood," continued Slusser. "We are seeing tile, metal, and glass incorporated with our wood into trusted patterns – wow, what an easy way to bring interest to a space!"
Pioneer Millworks is the leader in the reclaimed wood industry. To date, they've rescued nearly 22 million board feet of old wood from rot and landfills, giving it new life as flooring, millwork, cabinetry, and more. All manufactured in the USA from New York and Oregon — in a way that's healthy for customers, employees, and the environment. Pioneer Millworks is FSC certified and Green America approved. All of their products are LEED point eligible.