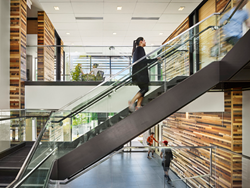 The use of salvaged lumber from around the world in the Center promotes local and recycled materials and reflects a global focus.
Easton, Pennsylvania (PRWEB) February 19, 2016
Reclaimed wood from six continents around the world was sourced by Pioneer Millworks for the new Oechsle Center for Global Education at Lafayette College in Easton, Pennsylvania. The Center acts as a community center and gathering space for students and faculty while housing the college's International Affairs, Area Studies, and Department of Anthropology and Sociology. Homage to the local and international focus of the Center was paid through building materials including reclaimed wood wall paneling from around the world.
Gund Partnership based in Cambridge, Massachusetts, the architect for the project, contacted Pioneer Millworks to supply the reclaimed wood. Pioneer was the only reclaimed wood company that could provide materials from each continent. According to the Lafayette News, "The use of salvaged lumber from around the world in the Center promotes local and recycled materials and reflects the global focus."
The reclaimed wood wall was made using one species native to continents of the world, with their percentages of inclusion based on the population of each continent. Pioneer Millworks sourced Iroko (from African shipping timbers), Elm (from North American barns), Mora (from South American shipping containers), an assortment of reclaimed exotic species known as Tradewinds Bright & Patina (from the Asian shipping industry), French White Oak (from European wine barrels), and Karri (from woolen mills in Australia). In fact, some of the wood representing the North American continent in the project came from an English Elm that once stood in the area's quad.
All new buildings, and renovations to existing buildings, at Lafayette College are designed to LEED specification with a minimum achievement of LEED Silver certification. In addition to the Oechsle Center featuring regionally sourced and environmentally friendly materials, Lafayette states that reducing energy consumption was also a priority in the design of the building. The building utilizes pre-heating and cooling sequences, radiant in-slab heating systems, LED lighting, and low flow fixtures that meet or exceed LEED (Leadership in Energy and Environmental Design) requirements.
Pioneer Millworks is the leader in the reclaimed wood industry. To date, they've rescued over 25 million board feet of old wood from rot and landfills, giving it new life as flooring, paneling, millwork, cabinetry, and more. All wood is manufactured in a way that's healthy for customers, employees, and the environment. Pioneer Millworks is FSC certified and Green America approved. All of their products are LEED point eligible.