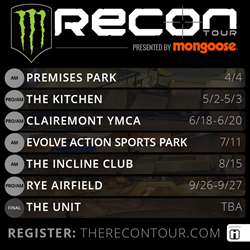 The talent that has been discovered as a result of Recon Tour has been ridiculous and we're honored to be a part of something that is contributing to and protecting the future of BMX. Scott Tilton
(PRWEB) March 10, 2015
Hookit and Monster Energy are pleased to announce the 2015 Monster Army Recon Tour dates and venues as well as a new partnership with Mongoose Bikes.
Hookit and Monster Energy created the Recon Tour in 2012 as a regional BMX contest series in Southern California. The mission was simple: discover, support and progress the best up-and-coming athletes in their sport. The past two years the tour has grown into a nationwide event that added structure and a vision to progress and truly identify the next unknown talent, while also supporting the professional athletes.
"We initially set out to fill a void and create a much needed amateur BMX contest series to encourage and support the up and coming riders and sport of BMX," said Scott Tilton, CEO of Hookit. "The talent that has been discovered as a result of Recon Tour has been ridiculous and we're honored to be a part of something that is contributing to and protecting the future of BMX."
For 2015, the BMX contest series has expanded once again into a nationwide effort to support both amateur and PRO athletes in a much bigger way. Monster Army has stepped up once again as the Title Sponsor. Monster has also increased the PRO purse while giving the amateurs a chance to also earn paid to podium.
Monster Army is always striving to push the progression of sports and help athletes get to the next level. "With the decline of PRO BMX events over the last number of years and no opportunity for the amateurs to make it to the next level, Monster stepped up by offering both the professional and amateur athletes a chance to compete and progress in their sport while competing for a large Prize Purse. With all of the Monster PRO team on board we look forward to further develop the Recon Tour in 2015," Said Christopher Stumbles, Sports Marketing Manager at Monster Energy.
The Tour has expanded into 7 AM events and 4 PRO events with an overall PRO/AM final. Each amateur podium winner in Open class will be invited and travel paid to the Recon Tour PRO/AM finals, where they will compete against the best BMX athletes in the world. Each PRO event will be a series format with $15k on the line at each event and $20k at the finals. The overall PRO series winner will also take home a significant prize at the PRO/AM Final.
"The Recon Tour is an excellent platform that provides young talent their first taste of competition and allows more experienced athletes exposure to top level riding," said Steve Wilcox, Sports Marketing Manager - Mongoose.
"We believe in cultivating up-and-coming talent, and one way we're able to do this is through offering a wide range of accessible bikes making it easy for both experienced riders and those who are new to BMX to find something that fits their riding style. When we found out there was an opportunity to get involved with the Recon Tour, we couldn't say no."
Tour Dates:
4/4 – Premises Park – AM
5/2 – The Kitchen – AM
5/3 – The Kitchen – PRO
6/18 – Clairemont YMCA – AM
6/19 – Clairemont YMCA – PRO Qualifying
6/20 – Clairemont YMCA – PRO Finals (during the Clash of Clairemont)
7/11 – Evolve Action Sports Park – AM
8/15 – The Incline Club – AM
9/26 – Rye Airfield – AM
9/27 – Rye Airfield – PRO
TBD – The Unit – PRO/AM Finals
About the Recon Tour
The Recon Tour, created by Hookit and Monster Energy, is an intelligence-gathering mission to find the best up- and-coming athletes in the nation through contests for BMX, Snowboard and Ski. We work closely with key partners to support the future of action sports and provide a better platform for the athletes to advance in their sports. For more information on the Recon Tour, visit http://www.theReconTour.com. Follow on Facebook at http://www.facebook.com/recontour on Twitter @recontour, and on instagram @recontour. To get involved as a sponsor or partner, please contact Robby Burleson at 888-874-3374 ext. 103 or recontour(at)hookit(dot)com.
About Hookit
Hookit is a digitally connected platform of tools and services created to support and connect athletes, brands and sports. Nearly 1M athlete's worldwide use Hookit to track their progression, promote themselves, build their personal brand, and earn deals from their favorite brands. The newly launched Hookit Score essentially measures the value of any athlete at any level. Updated daily scores range from 1-10,000, and are based on athletes' commitment, performance and reach in their sport. Brand partners are provided with powerful tools to discover, manage and reward amateur and professional athletes who actively support their brand. For more information visit http://www.hookit.com.
About Monster Army
Monster Army is a legion of athletes and fans that represent the Monster Energy brand all over the world. Join pros like Scotty Cranmer, Jamie Bestwick, Ryan Villopoto, Danny Kass and Rob Dyrdek, and get insider access to the Monster Energy lifestyle - Athletes, Support, News, Music, Contests and Events. For more info, visit http://www.monsterarmy.com.
About Mongoose
For almost 40 years, Mongoose has been in the dirt, on the trails and off the ramps. Mongoose is synonymous with bikes that perform on the smoothest single track to the biggest drops and riders looking for trails that never end and keep the party going. For more information, visit http://www.mongoose.com.