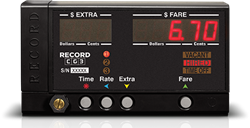 The CG3 has provided me with a tool that puts me back in control of my business. I can track everything, make necessary updates in real time, and the functionality of the unit is more user-friendly than ever.
Calgary, AB (PRWEB) May 08, 2015
Record Technologies is proud to announce they have received their Certificate of Conformance and Certificate of Approval from the National Type Evaluation Program (NTEP) and NYS Bureau of Weights and Measures, respectively.
This certification allows them to offer their industry-leading Record CG2 and Record CG3 Taximeter, previously exclusively built and sold in Canada, to the United States. (Quote by 4-Way Taxi, Brandon, MB)
The Record CG3 Taximeter, an evolution of the widely popular CG2, is a direct response to the identified needs of the taxi industry.
In addition to providing the same low-maintenance and high quality that the CG2 was renowned for, the CG3 offers an unmatched management and user-operator system including:

integrated Bluetooth technology
USB port for data collection
real-time software updates, tracking and collection of business-crucial stats
an extended warranty.
The Certificate of Performance recognizes equipment that has been reviewed and approved for use and sale in the United States while the Certificate of Conformance recognizes industry-facilitated evaluation via 60-days of field tests conducted by the NTEP to ensure the device complies with applicable taxi industry requirements.
For more information on Record Technologies and their revolutionary products, please contact Matt Collinson at mcollinson(at)recordtechnologies(dot)com, or call 1-844-382-8128.