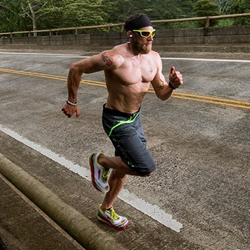 MagNaK® Speed Sauce is the first Electrolyte Sports Drink Powder specifically designed for triathletes, marathoners and other high-endurance athletes.
ROCKLIN, Calif. (PRWEB) March 28, 2019
MagNaK® Speed Sauce is a novel electrolyte powder designed for triathletes, marathon runners and participants in other high-endurance sports.
These athletes experience a common set of physiological challenges including stomach bloating, muscle cramping and energy depletion due to the extreme physical demands they place on their bodies. They note that the physical sensations associated with muscle cramping and stomach bloating diminish training efficiency while energy depletion impedes race day performance and their ability to establish personal records (PRs). James Lawrence, also known as the Iron Cowboy for his astounding physical feat of completing 50 triathlons, in 50 consecutive days, across 50 states, stated the following:
"There is nothing more infuriating than putting in hundreds of hours preparing for a race and then having to stop midway because of a muscle cramp or a bloated stomach."
Seeking a solution to the problem, James partnered up with Award-winning Nephrologist and CEO of Gray Mountain Sports Drinks, Dr. Sourabh Kharait to see how proper electrolyte supplementation could help reduce instances of these painful physical effects. With Gray Mountain Sports Drinks having recently received a patent for its novel electrolyte sports drink MagNaK®, Dr. Kharait was enthusiastic about investigating how MagNaK® could be adapted to solve the vexing problems experienced by high-endurance athletes like James. Dr. Kharait stated:
"It is exceedingly rare nowadays, for a sports drink to receive a patent, but we were able to demonstrate a novel formulation with MagNaK® that enhanced muscle performance and reduced muscle cramps in athletes engaged in arduous physical exercise. In consultation with James, we've been able to adapt the MagNaK® electrolyte formulation by slight tweaks in its recipe (sugar and sodium content) to support high-intensity training undertaken by athletes like James. We call this new product MagNaK® Speed Sauce and we are excited by the results we are seeing."
MagNaK® Speed Sauce is an electrolyte-infused sports drink powder mix. The formulation features optimized levels of Magnesium (25% of daily intake), Potassium, and Sodium along with 7.5 grams/serving of organic cane sugar. Dr. Kharait stated:
"People tend to believe that they need to avoid sodium (salt). While that may be true in some cases, studies in athletes have shown that when it comes to intense physical exertion, the right amount of sodium can maintain serum osmolality and prevent catastrophic events such as hyponatremia (low sodium). When combined with Magnesium and Potassium, we believe the formulation can mitigate some of the underlying causes of muscle cramping and bloating, while maintaining adequate hydration of athletes."
MagNaK® Speed Sauce will be available for purchase at GoSpeedSauce.com and on Amazon.
MagNaK ® Speed Sauce Electrolyte Powder is offered by the IGH Naturals, LLC, a majority-owned subsidiary of Gray Mountain Sports Drinks, LLC in partnership with Iron Cowboy LLC. IGH Naturals has retained HaneyBiz Marketing to manage marketing of the MagNaK® Speed Sauce.
Gray Mountain Sports Drinks LLC is located at 1420 East Roseville Parkway Suite 140 PMB-330, Roseville, CA 95661
IGH Naturals LLC is located at 4465 Granite Dr. Suite 700, Rocklin, CA 95677
IGH Naturals LLC is the registered owner of the trademark Hit More PRs