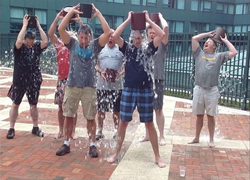 We lost the man, but his work lives on.
Prince Frederick, MD (PRWEB) September 15, 2014
Nominated for the ALS Ice Bucket Challenge by audiobook publisher Tantor Audio and library-app developer Boopsie, Recorded Books will donate a portion of audiobook sales to the ALS Association in the name of legendary audiobook producer Bob Deyan. Now through December 2014, any time a library orders a physical or digital edition of an audiobook with the words "ice," "bucket," or "challenge" in the title, Recorded Books will donate 10 percent of sales up to $10,000 to the ALS Association. This list of over 30 notable audiobooks with "ice," "bucket" or challenge" in the title includes:

Ice Cold Grave by Charlaine Harris
Icebound Land by John Flanagan
The Icecutter's Daughter by Tracie Peterson
The Challenge for Africa by Wangari Maathai
The Voice that Challenged a Nation by Russell Freedman
The Ice House by Minette Walters
The full list of titles is available on the Recorded Books website and from Recorded Books sales representatives. The donation will be made at the end of the year.
Bob Deyan was a much-loved audiobook producer who, along with his wife Debra, founded Deyan Audio and was nominated for 11 Grammys, winning 4, for work in the category of Spoken Word, as well as for countless Audie, Earphone and Listen Up Awards. For nearly 25 years, he was the heart and soul of Deyan Audio, where he was universally known for his talent, professionalism, creativity and warmth. In early 2013, Bob was diagnosed with ALS. In the all-too-short remaining year and a half he lived, Bob created several online platforms to raise awareness and money for ALS research. He passed away in August, and the audiobook community lost a great artist and friend.
Ramon de Ocampo, an award-winning narrator who worked with Bob on all the many titles he performed for Recorded Books, writes:
"Bob was a brilliant businessman, a generous philanthropist, and a fine man. And, most importantly, Bob was a storyteller, and he helped me become a storyteller too. We lost the man, but his work lives on."
In the spirit of the original challenges, Recorded Books employees also completed the traditional ALS Ice Bucket Challenge at their annual sales meeting the week of September 8. You can watch the video here.
Recorded Books nominated Library Journal, Publishers Weekly and AudioFile Magazine for the ALS Ice Bucket Challenge and encouraged them to find equally inventive ways to support this worthwhile cause in memory of Bob.
###
For more information on how your library can participate, visit http://www.recordedbooks.com or call 1-877-828-2833.
About Recorded Books
Recorded Books is the largest independent publisher of unabridged audiobooks and provider of digital content to the library, school, and retail markets. The company owns an exclusive catalog of over 13,500 audiobook titles narrated by professional, award-winning actors. Recorded Books provides digital audiobooks and eBooks to libraries through its proprietary OneClickdigital platform, as well as electronic resources, including digital magazines and films, through its proprietary RBdigital Gateway platform. The company was founded in 1979 and is headquartered in Prince Frederick, MD. For more information, visit http://www.recordedbooks.com.