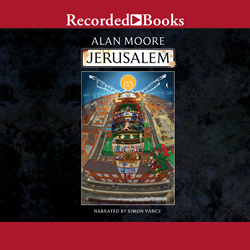 There are some truly special books on this list, and some spectacular pairings of story and storyteller/narrator.
Prince Frederick, MD (PRWEB) February 08, 2017
Among the finalists announced by the Audio Publishers Association (APA) for the 2017 Audie Awards, Recorded Books Inc., Tantor Media, HighBridge and christianaudio received 14 nominations across a wide range of categories, including Best Male Narrator.
"Recording Alan Moore's 'very long book about very nearly everything' [Entertainment Weekly] was a peak experience of 2016. Alan has an imagination the size of several large planets … and a generosity of spirit to match. It's to Alan, my 'eternal chum,' I owe this honor of being nominated," said Simon Vance, narrator and 2017 Audies finalist.
"There are some truly special books on this list, and some spectacular pairings of story and storyteller/narrator," said Troy Juliar, chief content officer for Recorded Books. "There is a lot here for audio fans to enjoy and savor. We are truly honored to have our work and the work of these authors and narrators acknowledged by the APA."
Recorded Books, Tantor, HighBridge and christianaudio received the following nominations:
Best Male Narrator
Jerusalem by Alan Moore
Narrator: Simon Vance (Recorded Books)
Business/Personal Development
Humans Need Not Apply by Jerry Kaplan
Narrator: John Pruden (Tantor)
Erotica
The Baller by Vi Keeland
Narrators: Mackenzie Cartwright, Sean Crisden (Tantor)
The Darkest Torment by Gena Showalter
Narrator: Max Bellmore (Recorded Books)
Fantasy
League of Dragons by Naomi Novik
Narrator: Simon Vance (Tantor)
History/Biography
Paul McCartney: The Life by Philip Norman
Narrator: Jonathan Keeble (Recorded Books)
The Year of Lear by James Shapiro
Narrator: Robert Fass (Tantor)
Inspirational Faith-Based Fiction
Risen: The Novelization of the Major Motion Picture by Angela Hunt
Narrator: P.J. Ochlan, Alana Kerr (christianaudio)
Mystery
The Heavens May Fall by Allen Eskens
Narrators: R.C. Bray, David Colacci, Amy McFadden (Tantor)
Non-Fiction
A Million Years in a Day by Greg Jenner
Narrator: Matthew Lloyd Davies (Tantor)
Original Work
Car Talk Science: MIT Wants Its Diplomas Back by Tom Magliozzi, Ray Magliozzi
Hosts: Tom Magliozzi, Ray Magliozzi (HighBridge)
Science Fiction
Crosstalk by Connie Willis
Narrator: Mia Barron (Recorded Books)
Short Stories/Collections
East, West by Salman Rushdie
Narrators: Sunil Malhotra, Steven Crossley (Recorded Books)
Young Listeners
Island Treasures: Growing Up in Cuba by Alma Flor Ada
Narrator: Trini Alvarado (Recorded Books)
The Audies, often promoted as the "Oscars of the audiobook industry," is the premier awards program in the United States recognizing distinction in audiobooks and spoken-word entertainment. In March, finalists in four other categories will be announced: Audiobook of the Year, Excellence in Design, Excellence in Marketing, and Excellence in Production. Winners will be announced June 1 at the Audies Gala in New York.
For more information or to purchase any of these Audie Award–nominated audiobooks, click here.
About Recorded Books Inc.
Recorded Books is a leading publisher of spoken-word content. It is the largest independent publisher of audiobooks and provider of digital media to consumer, retail, professional, school, library and infotainment markets. The company owns an exclusive catalog of more than 27,000 audiobook titles narrated by professional, award-winning actors. Recorded Books also provides digital audiobooks and eBooks, as well as other compelling third-party content, including digital magazines and films. The company operates in the United Kingdom through its W. F. Howes subsidiary and in Australia through its Wavesound subsidiary. Recorded Books was founded in 1979 and is headquartered in Prince Frederick, MD. For more information, visit recordedbooks.com.