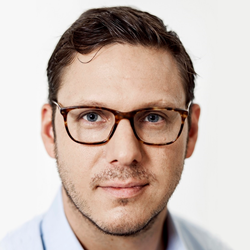 My passion is to play big and disrupt.
San Francisco, CA (PRWEB) February 04, 2015
Recorded Books, Inc. has announced a new addition to its executive team, Chris Surowiec, as vice president of strategic business development and global channels. Surowiec, a progressive leader and mobile-technology expert, will be responsible for helping the company pioneer a new era as it continues to expand its global reach and develop deeper, innovative technology offerings.
"My passion is to play big and disrupt," said Surowiec. "I'm very excited to be joining Recorded Books at such a pivotal time for the company and the media industry."
Surowiec's efforts are aimed at evolving and growing every facet of the business, with an immediate focus on global partnerships, OEMs, third-party publishers and industry influencers. Surowiec brings with him more than 15 years of organizational and business-strategy experience, including a track record of executing high-profile deals for technology giants such as Microsoft and Nokia.
"The opportunity to build new and surprising partnerships to help Recorded Books and our partners in the library market succeed in a mobile-first, cloud-first world is truly exciting, and I look forward to leading these efforts."
Recorded Books' channel expansion and alliances are core to the company's growth strategy as it looks to deepen successful partnerships with companies such as Amazon and also build new relationships with strategic technology and distribution partners.
"Chris' deep-rooted experience and extensive knowledge in developing strategic partnerships in the mobile industry is instrumental to Recorded Books as we further scale our company globally and drive new growth vectors," said Richard Freese, CEO of Recorded Books. "Chris' creativity will be a powerful asset as we deepen and expand our partner ecosystem and drive global growth."
Announcement of Surowiec's appointment follows the recent acquisition of Tantor Media. Surowiec is based in San Francisco, California.
###
About Recorded Books
Recorded Books is the largest independent publisher of unabridged audiobooks and provider of digital media to consumer, retail, professional, school, library and infotainment markets. The company owns an exclusive catalog of more than 22,000 audiobook titles narrated by professional, award-winning actors. Recorded Books provides digital audiobooks and eBooks, as well as other compelling third-party content, including digital magazines and films, through its proprietary RBdigital Gateway platform. The Company operates in the United Kingdom through its W.F. Howes subsidiary and in Australia through its Wavesound subsidiary. Recorded Books was founded in 1979 and is headquartered in Prince Frederick, MD.
For more information, visit http://www.recordedbooks.com.