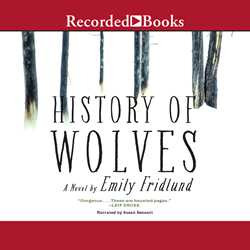 We have no doubt that this is just the first of many future accomplishments we'll see from Fridlund.
Prince Frederick, MD (PRWEB) January 12, 2017
Named the #1 Indie Next Pick for January, Emily Fridlund's debut, History of Wolves, continues to rack up an impressive series of honors. Published as an audiobook by Recorded Books, the novel was also selected as an Amazon Best Book of the Month, USA Today Notable Book, one of Five Best New Books by People magazine, and a Barnes & Noble Discover Great New Writers selection.
"Recorded Books prides itself on supporting new and emerging voices in the publishing industry," said Recorded Books Director of Acquisitions Brian Sweany. "It's extremely rewarding to see talented new writers receive the recognition and praise they deserve. We have no doubt that this is just the first of many future accomplishments we'll see from Fridlund."
History of Wolves is a contemporary coming-of-age thriller about a young woman, Linda, living with her parents in a commune in northern Minnesota. An outsider at school, Linda is drawn to a classmate and new teacher, Mr. Grierson. But when Mr. Grierson is alleged to possess child pornography, Linda struggles with the news and with her own sense of identity.
History of Wolves is also the winner of the McGinnis-Ritchie award for its first chapter. Narrated by Susan Bennett, the audiobook was released simultaneously with the print book. Click here to listen to an excerpt from the audiobook.
###
Libraries can visit the Recorded Books website for more information or to purchase this title on audio.
About Recorded Books Inc.
Recorded Books is a leading publisher of spoken-word content. It is the largest independent publisher of audiobooks and provider of digital media to consumer, retail, professional, school, library and infotainment markets. The company owns an exclusive catalog of more than 27,000 audiobook titles narrated by professional, award-winning actors. Recorded Books also provides digital audiobooks and eBooks, as well as other compelling third-party content, including digital magazines and films. The company operates in the United Kingdom through its W. F. Howes subsidiary and in Australia through its Wavesound subsidiary. Recorded Books was founded in 1979 and is headquartered in Prince Frederick, MD. For more information, visit recordedbooks.com.