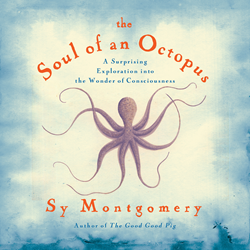 I'm delighted to see that the judges are honoring a book which is about our planet's largest group of animals.
Prince Frederick, MD (PRWEB) October 16, 2015
Shortlists for the 2015 National Book Awards have been announced, cutting the number of nominees from 40 to 20. Of the five finalists in the Nonfiction category, one of the nominations went to Tracy K. Smith's Ordinary Light, published on audio by Recorded Books. A second nomination went to Sy Montgomery's The Soul of an Octopus, which was recorded by HighBridge Audio, a division of Recorded Books.
"It is an honor to have our titles recognized by the National Book Foundation and nominated for one of the nation's most prestigious literary prizes," said Rich Freese, Recorded Books president and CEO. "Publishers submitted a total of 494 books for the 2015 National Book Award for Nonfiction, so to have two of the five Nonfiction finalists belong to Recorded Books and its family of publishers is quite an accomplishment."
Ordinary Light is the story of a young woman struggling to fashion her understanding of belief, loss, history, and what it means to be black in America. Smith, who also narrated the audiobook, is the author of three books of poetry, including Life on Mars, which won the 2012 Pulitzer Prize and was selected as a New York Times Notable Book. Smith was the recipient of a Rona Jaffe Foundation Writers' Award in 2004 and a Whiting Award in 2005. In 2014, the Academy of American Poets awarded Smith the Academy Fellowship, which recognizes distinguished poetic achievement. Smith is the director of the creative writing program at Princeton University.
The Soul of an Octopus explores the emotional and physical world of the octopus. Author Sy Montgomery is a naturalist, documentary scriptwriter, and author of 20 acclaimed books of nonfiction for adults and children, including the memoir The Good Pig, a New York Times bestseller. The recipient of numerous honors, including lifetime achievement awards from the Humane Society and the New England Independent Booksellers Association, she lives in New Hampshire.
Montgomery commented on her nomination by saying, "I'm delighted to see that the judges are honoring a book which is about our planet's largest group of animals [invertebrates]. I'm thrilled beyond measure about the attention this brings to octopuses, to the New England Aquarium, and to the fact that humans aren't the only ones who think, feel and know."
Montgomery, who also narrated the audiobook edition, continued, "Recording this book was a great experience, because this is a very personal story about people and animals whom I love. I felt that though there are plenty of actresses with nicer voices and better delivery, only I could share with listeners what was truly in my heart as I experienced these events and insights. I am delighted to make that personal connection on this recording."
The mission of the National Book Foundation is to celebrate the best of American literature, to expand its audience, and to enhance the cultural value of great writing in America. The National Book Award is one of the nation's most prestigious literary prizes and has a stellar record of identifying and rewarding quality writing. Each finalist will receive $1,000. The winners, who will be announced on November 18 at the 66th National Book Awards Benefit Dinner and Ceremony at Cipriani Wall Street in New York City, will receive $10,000.
###
Click here for a complete list of the 2015 National Book Awards finalists.
About Recorded Books
Recorded Books is the largest independent publisher of unabridged audiobooks and provider of digital media to consumer, retail, professional, school, library and infotainment markets. The company owns an exclusive catalog of more than 22,000 audiobook titles narrated by professional, award-winning actors. Recorded Books provides digital audiobooks and eBooks, as well as other compelling third-party content, including digital magazines and films, through its proprietary RBdigital Gateway platform. The company operates in the United Kingdom through its W. F. Howes subsidiary and in Australia through its Wavesound subsidiary. Recorded Books, founded in 1979 and headquartered in Prince Frederick, MD, acquired both Tantor Media and HighBridge Audio in 2014. For more information, visit http://www.recordedbooks.com.