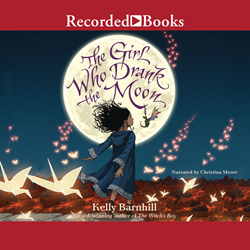 What a pleasure and privilege it is to work with so many of the talented people honored at the 2017 ALA Youth Media Awards!
Prince Frederick, MD (PRWEB) January 23, 2017
Recorded Books Inc. is the audio publisher of this year's Newbery Medal winner. Recorded Books also published audio titles honored with numerous other awards, including Honor Books. The 2017 Youth Media Award winners were announced this morning by the American Library Association (ALA) during a presentation at ALA's Midwinter Meeting & Exhibits in Atlanta, Georgia.
2017 Award Winners with Audio Editions from Recorded Books:
The Girl Who Drank the Moon by Kelly Barnhill

Winner of the 2017 John Newbery Medal
They All Saw a Cat by Brendan Wenzel

2017 Caldecott Honor Book
Freedom Over Me: Eleven Slaves, Their Lives and Dreams Brought to Life by Ashley Bryan

2017 Newbery Honor Book
2017 Coretta Scott King (Author) Honor Book
2017 Coretta Scott King (Illustrator) Honor Book
Dream On, Amber by Emma Shevah, narrated by Laura Kirman

2017 Odyssey Honor Audiobook
Samurai Rising: The Epic Life of Minamoto Yoshitsune by Pamela S. Turner

2017 YALSA Award for Excellence in Nonfiction for Young Adults Finalist
In addition, Recorded Books author Nikki Grimes won the 2017 Laura Ingalls Wilder Award, which honors an author or illustrator whose books have made a substantial and lasting contribution to literature for children, and Recorded Books author Sarah Dessen won the 2017 Margaret A. Edwards Award for lifetime achievement in writing for young adults.
"Recorded Books prides itself on both the quality of its production and the excellence and diversity of the children's titles we record. What a pleasure and privilege it is to work with so many of the talented people honored at the 2017 ALA Youth Media Awards!" said Melanie Donovan, Recorded Books Director, Children's Acquisitions.
Each year the ALA honors books, videos and other outstanding materials for children and teens. Recognized worldwide for the high quality they represent, ALA awards guide parents, educators, librarians and others in choosing the best materials for youth. Selected by judging committees of librarians and other children's experts, the awards encourage original and creative work.
For more information on the ALA Youth Media Awards and Notables, please visit http://www.ala.org/yma.
###
To purchase any of the above award winners on audio, visit the Recorded Books website. To view a complete list of the 2017 Youth Media Award winners, visit ala.unikron.com/2017.
About Recorded Books Inc.
Recorded Books is a leading publisher of spoken-word content. It is the largest independent publisher of audiobooks and provider of digital media to consumer, retail, professional, school, library and infotainment markets. The company owns an exclusive catalog of more than 27,000 audiobook titles narrated by professional, award-winning actors. Recorded Books also provides digital audiobooks and eBooks, as well as other compelling third-party content, including digital magazines and films. The company operates in the United Kingdom through its W. F. Howes subsidiary and in Australia through its Wavesound subsidiary. Recorded Books was founded in 1979 and is headquartered in Prince Frederick, MD. For more information, visit recordedbooks.com.