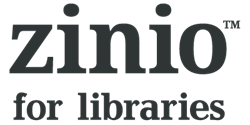 We are excited to enhance the Zinio for Libraries offering by more than doubling the magazine titles available.
Prince Frederick, MD (PRWEB) May 14, 2014
Zinio, the world's largest digital newsstand and leading magazine app for iOS, Android and Web, today announced an aggressive move to expand its digital offerings for libraries by adding 1,000 magazine titles to its digital magazine service for library patrons, including international titles with new language content. Zinio for Libraries is a digital magazine service offered in partnership with RBdigital from Recorded Books.
"We are excited to enhance the Zinio for Libraries offering by more than doubling the magazine titles available," said Beth Murphy, EVP of Product and Chief Marketing Officer for Zinio. "The Zinio for Libraries service has enjoyed over 300% growth in registered users over the past year, signaling the overall industry growth and consumer adoption of digital magazines across their favorite tablet, smartphone and desktop devices."
"Library patrons are demonstrating rapid adoption of digital magazines by accessing magazine content through Zinio for Libraries, with new checkouts of online magazines averaging over 1,000,000 per month," said Rich Freese, Recorded Books President and CEO. "The digital media market for libraries is showing exponential growth. Every minute a new library patron is added, 13 magazines are checked out on Zinio for Libraries. We expect that the addition of international digital magazines with new language content will appeal to an even broader selection of patrons with multinational interests and diverse cultural backgrounds."
Zinio for Libraries currently offers more than 1,800 magazines and continues to expand its available digital offerings.
With Zinio for Libraries, library patrons can access digital magazine content from hundreds of magazines by simply registering with a library card and password. Zinio's digital newsstand currently offers online magazines in both English and native languages from the following countries:
Argentina Italy Slovenia
Australia Japan South Africa
Brazil Mexico Spain
Canada Netherlands Sweden
Chile New Zealand Switzerland
France Philippines United Kingdom
Germany Portugal United States
India Singapore Vietnam
Ireland
As part of this newly announced expansion of digital magazine titles, Zinio for Libraries has added new online magazines in the following languages:
Afrikaans German Slovenian
Chinese Italian Spanish
Dutch Japanese Vietnamese
French Portuguese
"Recorded Books strives to provide libraries the tools and services they need to satisfy the diverse needs and interests of their community," continued Freese. "The addition of new international titles with new language content enables libraries to support English-speaking patrons and patrons from multiple nationalities alike, with reading materials in native languages."
Awarded Best New Database of 2012 by "Library Journal," Zinio for Libraries is the world's largest digital newsstand, offering patrons access to complete editions of today's most popular publications. Whether at home or on the go, library patrons can read magazines online with a browser or on a mobile device using one of Zinio's digital magazine apps. Zinio's unique technology digitally re-creates a magazine page for page and includes full-color pictures, intuitive navigation, keyword article search and interactive elements such as audio and video.
###
For more information about Zinio for Libraries, visit http://www.recordedbooks.com, email zinio(at)recordedbooks(dot)com or call 1-877-828-2833.
About Recorded Books
Recorded Books is the largest independent publisher of unabridged audiobooks and provider of digital content to the library, school, and retail markets. The company owns an exclusive catalog of over 13,500 audiobook titles narrated by professional, award-winning actors. Recorded Books provides digital audiobooks and eBooks to libraries through its proprietary OneClickdigital platform, as well as electronic resources, including digital magazines and films, through its proprietary RBdigital Gateway platform. The Company was founded in 1979 and is headquartered in Prince Frederick, MD. For more information, visit http://www.recordedbooks.com.
About Zinio
The world's first and largest digital newsstand, Zinio has been downloaded by over 24 million readers and provides access to more than 5,000 magazines on 33 local newsstands via smartphones, tablets and PCs. Rated "Top 20 Best iOS and Android App of 2012" by Tech Crunch and "Best App Ever" for iOS by 5 million fans, Zinio strives to deliver the best magazine reading experience at your fingertips, anytime, anywhere. Zinio is headquartered in downtown San Francisco with offices in New York, London and Barcelona.
Zinio's free magazine app is available for iOS, Android, Windows 8 devices and on the Web at http://www.Zinio.com.
Media Contact for Recorded Books
Rebecca Wyatt
Social Media Manager
(p) 800-638-1304, ext.1252
rwyatt(at)recordedbooks(dot)com
Media Contact for Zinio
Juliet Travis
Travis Communications
(p) 510-285-6087
juliet(at)travispr(dot)com