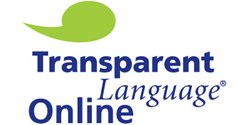 Transparent Language Online has been one of the library's most successful electronic product launches.
Weston, CT (PRWEB) October 09, 2013
Weston Public Library (Weston, CT), in partnership with RBdigital from Recorded Books (Prince Frederick, MD), is pleased to announce the availability of Transparent Language Online for Libraries, the most complete language-learning solution available anywhere. Transparent Language is a highly regarded and proven system providing the widest variety of high-quality learning material and seamless integration of real-life language use.
Through the library's website, patrons of Weston Public Library have unlimited access to more than 80 online language courses, packed with pronunciation, speech, grammar, writing and vocabulary-building lessons. Patrons have the ability to write or speak their answers, practice pronunciation by slowing down the on-screen examples, and converse with native speakers through interactive videos. Transparent Language Online delivers all language-learning materials online with no additional media, such as CDs, flash drives, or DVDs. Patrons can learn on their own time, at their own pace in the library, in the comfort of their own home, or on the go with Byki Mobile for the iPhone® and Android™.
"At the Weston Public Library we strive to provide resources to meet the diverse needs of our community," said Karen Tatarka, Library Director. "Transparent Language Online allows us to expand our language learning resources beyond what we could provide physically in the library and it can be accessed in-house or remotely, serving both traditional and online patrons. Patrons began registering for Transparent as soon as it became available, and interest is steadily growing. It has been one of the library's most successful electronic product launches."
Please see a library staff member at Weston Public Library for more information on how to access this service or go to http://www.westonpubliclibrary.org.
About Recorded Books
Recorded Books, LLC is a leading provider of library services around the world, one of the largest independent producer of unabridged audiobooks, and a distributor of other audio products. Recorded Books delivers its products as both physical media (CDs and Playaway digital players) and via OneClickdigital, a downloading service featuring eBooks and professionally narrated English- and Spanish-language audiobooks for adults, children and young adults. Through RBdigital, Recorded Books also offers a host of educational and entertainment services, including digital magazines, language-learning programs, software training, and database services. Recorded Books is a division of Haights Cross Communications. For more information, visit http://www.recordedbooks.com.
About Transparent Language
Transparent Language is a leading provider of best-practice language learning software for consumers, government agencies, educational institutions, and businesses. Since 1991, Transparent Language has helped millions of individuals learn new languages quickly, easily, and effectively. Working with distinguished language acquisition experts and thousands of native speakers around the world, Transparent Language is committed to producing language learning solutions of the highest quality at reasonable prices.