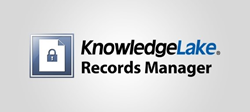 With only about 35% of organizations worldwide having deployed some type of records management and policy management system. - Jason Burian, director of product management
St. Louis, MO (PRWEB) February 27, 2014
KnowledgeLake, Inc. today announced that it will officially launch its latest product, KnowledgeLake Records Manager, at SharePoint Conference 2014. KnowledgeLake Records Manager is a comprehensive, end-to-end solution that enables organizations to efficiently manage the lifecycle of all records throughout the enterprise, while maximizing their investment in Microsoft SharePoint.
"In working closely with our customers, it was evident they are looking for more efficient ways to support the expanding diversity of their content - stored in SharePoint, e-mails, social media and other locations - while staying compliant with ever-changing regulatory requirements. With only about 35 percent of organizations worldwide having deployed some type of records management and policy management system, we saw the need for a solution that makes it easy to proactively address these concerns," said Jason Burian, director of product management, KnowledgeLake.
KnowledgeLake Records Manager helps organizations increase efficiencies and productivity by automating retention schedules, applying legal holds and easily locating and presenting enterprise content for discovery if and when needed. Organizations will lower costs and reduce legal risk by destroying obsolete information at the end of its lifecycle. KnowledgeLake Records Manager, combined with KnowledgeLake Imaging, enables organizations to easily manage enterprise-wide policies inside or outside of SharePoint for a complete compliance and governance suite.
KnowledgeLake Records Manager Key Business Benefits:

Increase efficiencies and productivity by implementing a single 'file plan' for managing all records and information enterprise-wide.
Automate retention schedules, apply legal holds and easily locate and present enterprise content for discovery and identification.
Reduce end-user impact by automatically classifying enterprise information in order to apply retention schedules.
Confidently adhere to immediate and future legal, regulatory and industry compliance policies with a legally defensible solution.
Easily manage complex and diverse variety and high-volume of corporate information in and out of SharePoint.
Reduce storage costs by disposing obsolete information and minimizing effort of information governance and compliance.
KnowledgeLake will showcase their latest solutions for SharePoint records management at SharePoint Conference 2014 at the Venetian Hotel and Resort in Las Vegas, Nevada from March 3-6th. SharePoint Conference is the largest and most comprehensive event on the planet for SharePoint, Yammer, Office 365 and related technologies.
About KnowledgeLake
KnowledgeLake is an innovative software and services firm specializing in helping Microsoft-driven organizations solve their document-intensive business challenges through expert guidance, council, services and enterprise software solutions. KnowledgeLake provides the business expertise and technology needed to help clients efficiently capture, store and manage process related documents as part of an over-arching Enterprise Content Management (ECM) vision.
Headquartered in St. Louis, Missouri, KnowledgeLake is a three-time Microsoft Partner of the year award winner and is recognized as the founder of the SharePoint document imaging marketplace in 2003. KnowledgeLake enables its customers to maximize and extend their already sound investments in proven Microsoft technologies, such as Microsoft SharePoint, Microsoft Office and Microsoft Office 365. Equity funded by PFU Ltd. (a wholly owned subsidiary of Fujitsu Ltd.)