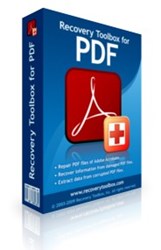 the most sophisticated, yet intuitive and widely accessible data recovery solution for damaged Adobe PDF documents.
Sacramento, CA (PRWEB) December 03, 2013
Recovery Toolbox (recoverytoolbox.com), a software development company known on the international market for its impressive portfolio of data recovery products, is glad to announce the recent release of the most advanced version of Recovery Toolbox for PDF, a powerful tool intended for helping users recover PDF files quickly and without much hassle. http://www.pdfrecoverysoftware.com/
The greatest advantage of Recovery Toolbox for PDF is its remarkable simplicity of use that makes it the optimal choice for users of all skill levels, from complete novices to system administrators with years of experience. Recovery Toolbox has completely reworked the core of the program, which is now capable of restoring data even from severely damaged files and does it faster than all of its predecessors and current competitors. http://www.pdf.recoverytoolbox.com/
The software helps recover PDF documents damaged in all conceivable types of incidents: from HDD failures and virus attacks to unexpected power shortages and OS crashes. The program requires no additional downloads, such as drivers, frameworks or libraries, and works right out of the box to deliver the best user experience among similar solutions. http://www.recoverytoolbox.com/
Recovery Toolbox for PDF will recover PDF text, images, links, object forms, fonts, relevant metadata, file parameters and structure, allowing user to restore as many meaningful elements of a damaged PDF document as possible.
"We are happy to present the latest and the best PDF recovery solution on the market," said Victor Bobrov, CTO of Recovery Toolbox. "We have spent months analyzing the weaknesses of its previous versions and have come up with a completely new engine that performs better, produces more accurate results and leaves no chance to data corruption incidents of any kind. Recovery Toolbox for PDF can recover PDF files that other programs will have serious problems with."
The free demo of Recovery Toolbox for PDF is available for download from the official site of the company. http://www.recoverytoolbox.com/download.html#rt_pdf_download