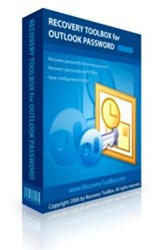 Recovery Toolbox for Outlook Password is the newest password recovery solution.
Sacramento, CA (PRWEB) August 19, 2013
Recovery Toolbox, a renowned supplier of premium data recovery and file repair tools http://www.recoverytoolbox.com/products.html for many popular applications and office tools, is pleased to announce the release of a new version of Recovery Toolbox for Outlook Password, a specialized tool for fast and hassle-free recovery of lost and forgotten passwords to mail accounts and LDAP services utilizing MS Outlook, as well as protected standalone PST storage files. The tool recovers passwords and visualizes the settings of the following popular services and accounts: MS Exchange Server, POP3, IMAP and HTML mail servers, MS LDAP Directory and MS Mail. Supporting all versions of Outlook, from 97 to the latest one, this piece of software can recover Outlook passwords from encrypted, non-encrypted and compressed files in mere seconds.
As an extra feature, the program is capable of saving the recovered settings of MS Outlook identities to a regular plain text file on the user's hard drive. Just as all other Recovery Toolbox products http://www.outlookpassword.recoverytoolbox.com/ , Recovery Toolbox for Outlook Password has a very intuitive interface that can be efficiently used by people with limited or no PC experience at all.
"It is with great pleasure that we release the newest and the best Recovery Toolbox for Outlook Password to date. All benchmarks that we and our customers have run show that this tool is the fastest solution of its type and we are really proud to be the people behind it," summarized Victor Bobrov, Head of Sales at Recovery Toolbox http://www.recoverytoolbox.com .
The free demo version of the tool is available for download from the company's official website.
http://www.recoverytoolbox.com/download.html#rt_outlook_password_download