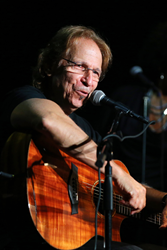 Enemy has special meaning for me in that it's a collection of music I use every week in my therapy sessions. Each song distills a bit of wisdom and experience meant to connect with the soul in ways nothing else can.
Fort Lauderdale, FL (PRWEB) October 11, 2016
The release of veteran singer/songwriter Richie Supa's new album Enemy was celebrated at a reception on Wednesday, September 21st at Paradise Live at the Seminole Hard Rock Hotel & Casino in Hollywood, FL. The event raised funds for the Face The Music Foundation and honored National Recovery Month. Event sponsors included Haven Detox, GreenspoonMarder, Baric Enterprises, Express Auto Lease, BBX Capital, Hollywood Kia, Clear Title Group, Polaris Pharmacy Services, D.A.K., ProScapes, and Garden Drugs & Medical Supply.
Supa is also Director of Creative Recovery at Recovery Unplugged® Treatment Center in Ft. Lauderdale, FL and Enemy is a collection of the music he uses in his work there in helping addicts achieve long-lasting recovery from addiction. A GRAMMY award-winning singer-songwriter, Supa has penned over 300 songs for artists including Aerosmith, Bon Jovi, Ozzy Osborne, Mika, and P!nk, and legends such as Willie Nelson, Johnny Winter, Levon Helm, Tom Jones, Air Supply, and Glen Campbell, among others. His work has been featured on multiple albums that have sold over 50 million copies.
As reported in Music Connection magazine, Supa has helped thousands of addicts with his personal insight and inspiring music. As a recovering addict for the past 27 years, Supa's philosophy is simple: "You can't keep what you have unless you give it away." So he keeps on giving. Proceeds from event and album sales were donated to Face The Music Foundation, a nonprofit organization that raises money and awareness to support those affected by substance abuse addiction through events, programs and scholarships. Funds will be used to provide scholarships to support the pre- and post-rehabilitation needs of clients of Recovery Unplugged®.
"Enemy has special meaning for me in that it's a collection of music I use every week in my therapy sessions. Each song distills a bit of wisdom and experience meant to connect with the soul in ways nothing else can. This is my best expression yet of how music makes the difference in our program," said Supa.
The hallmark of the Recovery Unplugged® program is its effectiveness in helping addicts personally identify with music in order to explore and better understand the root causes of their addiction. "Music plays a pivotal role in breaking down emotional and psychological barriers," said Recovery Unplugged® Chief Strategy Officer Paul Pellinger. "We use it as a catalyst for introspection and communication, and it then accompanies addicts in recovery after leaving rehab, serving as a trigger to ward off relapse." After its first 32 months of operation, the number of Recovery Unplugged® patients still clean exceeded three times the national average for addicts who have completed rehab programs.
For video coverage of the event, click here.
About Recovery Unplugged
Recovery Unplugged® Treatment Centers in Ft. Lauderdale, FL and Austin, TX are facilities that offer a unique and long-lasting rehabilitation approach. The centers combine traditional and cognitive behavioral approaches that use music creation as a catalyst to break down defenses, inspire, and motivate the change necessary for long-term recovery and sobriety. Recovery Unplugged® is committed to providing hope and healing using music to individuals suffering from addiction all over the United States. For more information, visit recoveryunplugged.com.
About Face The Music Foundation
Face The Music Foundation is a 501c3 nonprofit organization whose mission is to raise awareness about addiction, provide resources for those seeking recovery and to promote a clean and sober way of life. Face The Music Foundation encourages awareness about addiction and recovery through programs, conferences, events and social media. We believe in erasing the stigma associated with the 3rd largest cause of death in the United States. In partnership with a network of providers we offer financial assistance to those who show a commitment to changing their lives by addressing their addiction. We emphasize the use of music as a tool to inspire change. For more information, visit facethemusicfoundation.org.