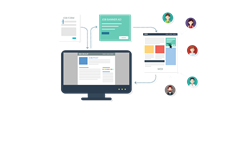 Top talent is always employed, employers should reach them where they hang-out and not on job-boards.
Thunder Bay, ON (PRWEB) April 23, 2015
Recroup released its new Facebook Ad platform. With Facebook Ad campaigns employers can now reach talent on the largest social network on the web. Facebook Job Ads are highly targeted and very engaging, which gives employers an opportunity to attract the right audience.
Recroup's Facebook Job Ad platform takes on social hiring in a new way by allowing employers to reach audiences typically hidden from traditional job boards.
Recroup is a complete job-advertising platform that offers various packages to suit customer needs. Employers can create campaigns for the web, Facebook or a combination of the two to get the best results. Recroup Job Ad campaigns start from as low as $100. There are 6 different packages for employers to choose from that gives companies control over their hiring budget.
Some other features of Recroup Job Ad Platform are:
● Recroup has a passive database of nearly 2 Million candidates.
● Recroup allow employers to reach high-level talent all over the web and the world's largest social network.
● Recroup Ad platform is built in such to work well with all major HR Software and ATS's.
● Recruiters can target audiences based on location, interests, skills etc.
● Recroup offers unlimited free job postings as well as flexible paid for packages that employers can control.
● Recroup talent profile has deep integration with applicant's social media accounts, which provides companies meaningful stats about the candidate, while protecting their privacy.
About Recroup: Recroup is a job ad platform where recruiters can promote their jobs to the largest audience possible. Recroup converts a traditional job positing into a banner ad and publish it all over the web. Job posting is free, companies pay when someone clicks on the banner ad.