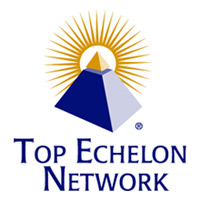 We're excited to have Systematic Business Consulting in our Network, and we're looking forward to helping its recruiters make split placements with our current Membership.
Cary, North Carolina (PRWEB) October 10, 2013
For the past 25 years, Top Echelon Network, an elite recruiter network of highly specialized search firms, has helped recruiters make split placements. One of the ways the Network has accomplished this is by ensuring that only split-minded, experienced recruiting firms become Preferred Members.
As a result, not every recruiting firm that applies for membership in Top Echelon Network becomes a Preferred Member. Early in its existence, the Network adopted a four-step screening process for admitting recruiting firms. Those four steps include the following:
1. Application
2. Interview
3. Screening
4. Reference checking
After being accepted, each Preferred Member firm is expected to achieve a defined level of success within the Network (i.e., make split placements) in order to maintain its Membership status.
Top Echelon Network recently welcomed Systematic Business Consulting in Cary, North Carolina to the ranks of its Preferred Member firms during the month of September. By joining Top Echelon, this recruiting firm is committed to making split placements.
Top Echelon Network Membership Development Coordinator Drea Codispoti, CERS is responsible for screening the recruiting firms that apply for Preferred Member status. Codispoti took Systematic Business Consulting through all four steps of the screening process and granted it admission into the Network.
According to Codispoti, Systematic Business Consulting has "hit the ground running" as a Preferred Member firm in Top Echelon Network.
"Bill Laughlin, the owner of Systematic Business Consulting, already has two Offers Accepted with another Network recruiter," said Codispoti. "His firm joined Top Echelon Network on September 3, and already he's leveraging the resources of the Network to generate more revenue. We're excited to have Systematic Business Consulting in our Network, and we're looking forward to helping its recruiters make split placements with our current Membership."