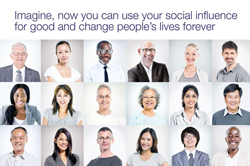 Recruiting for Good...helps moms enjoy group travel savings.
Santa Monica, Ca (PRWEB) September 21, 2016
Recruiting for Good helps single moms who are great role models; fund group travel. According to Recruiting for Good founder, Carlos Cymerman, "Single moms sacrifice, so often for their kids, forgetting about themselves, we developed our high purpose service to help moms experience rewarding group travel. A single mom who successfully makes a referral to an executive hiring professional staff can earn up to $10,000 in travel savings in one year to help fund her fun mom's group trip."
Problem: Travel is a Luxury for Most Single Moms
According to an article written on Single Mother Guide, "Single mothers earn income that place them well below married mothers in the income ladder. The gap between the two groups is significantly large. The median income for families led by a single mother in 2013 was about $26,000, one third (⅓) the median for married couple families ($84,000)."
According to American Express, "the average vacation expense per person in the United States is $1,145, or $4,580 for a family of four."
Solution: Single Moms Use Recruiting for Good to Fund Travel
How Does a Single Mom Participate?
Organize a group of friends who want to travel together to a particular destination in 12 months time (4-10 women).
1) Mom introduces an executive hiring professional staff.
2) Recruiting for Good finds the company a new employee.
3) A portion of the first fee earned is shared to reward $5,000 toward group travel.
Rewarding Group Travel Savings for 1 Year
Recruiting for Good founder, Carlos Cymerman adds, "Single moms that participate in Recruiting for Good to fund group travel continue to earn travel savings for 1 year; after the first reward ($5.000), every subsequent full-time placement made with the introduced company garners a $1,000 travel savings reward."
About
Recruiting for Good, a fun cause based staffing company that has been connecting talented technical professionals to great jobs since 1998. Our mission every year is to reward people who make a difference travel to see the world for good; to learn how visit RecruitingforGood.com.