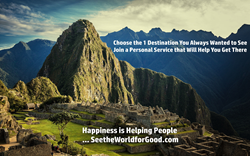 Recruiting for Good Rewards Exclusive G Adventures to See the World
Santa Monica, CA (PRWEB) April 20, 2016
Recruiting for Good is a cause based staffing company that finds technical professionals great jobs and generates proceeds to fund and reward specially designed G Adventures destinations for 2016-2017.
According to Recruiting for Good Founder, Carlos Cymerman, "We are grateful to work with G Adventures, who support initiatives worldwide, while delivering fun and inspiring small group global destinations."
Rewarding Small Group Travel Destinations in 2016-2017
1) December 2016 Celebrate New Years in Norway
2) February 2017 New Zealand Adventure Learn GoPro
3) March 2017 India Holi Party for Good
4) April 2017 Spain Soccer for Good "Enjoy El Clasico"
5) July 2017 Kickass in Japan Hike, Bike & Kayak
6) August 2017 Greece Sailing On Private Yacht
7) September 2017 Burgundy Party with Happily Divorced Club
8) November 2017 Morocco and Sahara Stay in Luxury Desert Oasis
9) December 2017 Celebrate New Year Australia See Great Barrier Reef
How to Earn G Adventures Rewards
Recruiting for Good finds technical professionals jobs with companies to generate proceeds and fund travel. People make candidate referrals to earn travel destinations.
1) A person simply participates by referring 1 person for 1 technical job to earn 1 travel destination.
2) Once Recruiting for Good gets the referred person a technical job with a company, and the person completes probation period.
3) Recruiting for Good rewards 1 of the 2016-2017 G Adventures destinations, listed above.
About
Recruiting for Good, a fun cause based staffing company, has been connecting talented technical professionals to great jobs since 1998. Our mission every year is to reward people travel. People earn travel rewards by making referrals. Every successful candidate referral that leads to 1 person getting a job, equals one rewarded destination...1 for 1.
G Adventures is the largest supplier of small group adventure travel worldwide, fostering 690+ Expeditions in over 100 countries. Uniquely different in the industry of travel, G Adventures is a social enterprise, using the economy of travel to solve challenging global issues and supporting economic, social, and environmental well-being across the globe. In joining a G Adventures Trip, travelers are making a difference while enjoying the most amazing experience of their lives. G Adventures is supporting 75 projects within woman's empowerment, micro-enterprise development, education, healthcare, and the environment through our non-profit, the Planeterra Foundation. Our work is about changing peoples lives through travel.
FuzeUs is a platform and community that connects Non-Profits and Brands, while engaging people to collaborate on socially conscious campaigns and daily activities. Through this FuzeUs delivers valuable marketing and engagement insights to Non-Profits, Brands, and Foundations by leveraging the platform's data and analytics. To build our grassroots community and increase socially conscious engagement, we introduced our monthly "Do Goodies" and ambassador program. Carlos Cymerman, founder says "Recruiting for Good works with FuzeUs to inspire participation and reward travel around the world," to learn more visit Fuzeus.com