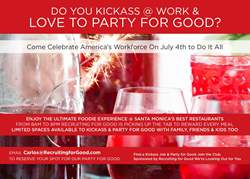 Do You Kickass at Work and Love to Party for Good...Join the Club.
Santa Monica, CA (PRWEB) June 09, 2017
Starting at 8 am to 8 pm, on July 4th, Recruiting for Good's founder, Carlos Cymerman will meet invited professionals in person, and reward dining at a different Santa Monica restaurant every two hours.
Every professional who is rewarded the exclusive 4th of July Foodie Party invite, earns dining for two people (adult or kid).
According to Carlos Cymerman, Founder of Recruiting for Good, "We celebrate and reward professionals who kickass at work, fun parties for good...Join the club."
How to Earn VIP Invite to July 4th Foodie Party for Good
Just 50 spots are available
1) Must live in Los Angeles, and be a US Citizen or US Resident, employed for 6 months or more.
2) Have a boss or supervisor nominate employee whose work performance is outstanding.
3) Nominate self for recognition, and attach name of supervisor that can verify work excellence.
4) Email all nominations to Carlos(at)RecruitingforGood(dot)com, no later than June 26, 2017.
5) Once invited, the talented professional chooses the foodie reward (the restaurant to savor and share).
Founder, Carlos Cymerman adds, "We chose Santa Monica restaurants who share similar like-minded values with Recruiting for Good that make a lasting difference, treat employees and customers with love and care, deliver extraordinary service, and savory dishes too."
About
Recruiting for Good, is a fun social staffing company that has been connecting talented technical professionals to great jobs since 1998. To find the best talent often, find your next kick*ss job and party for good email Carlos(at)RecruitingforGood(dot)com