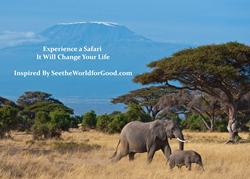 We reward people who help us make a difference; extraordinary travel experiences
Santa Monica, Ca (PRWEB) September 29, 2016
Recruiting for Good is rewarding single moms who successfully make executive referrals to help raise funds for nonprofit Single Moms Planet a $5,000 travel savings reward toward any safari trip.
Make a Difference to Enjoy Rewarding Travel
According to Recruiting for Good founder, Carlos Cymerman, "Women make 80% of all the purchasing decisions in travel. We love to help single moms travel. Single moms who successfully participate in our travel savings service; will also help Recruiting for Good raise $50,000 for nonprofit, Single Moms Planet."
How Single Moms Participate and Earn Safari Travel Savings Reward
1) A single mom introduces an executive hiring professional staff.
2) Recruiting for Good finds the company a new employee.
3) A portion of the first fee earned is shared to donate $500 to Single Moms Planet, and $5,000 savings reward toward a safari trip.
The single mom who initiates the introduction can choose to donate a larger portion of the travel reward toward nonprofit Single Moms Planet; enjoy or gift the travel reward to anyone living in the U.S.
Supporting U.S. Companies
Recruiting for Good rewards travel savings with Safari adventure travel companies with offices in the U.S. and a stellar reputation for taking care of customers. According to Travel & Leisure readers the following top 5 safari outfitters meet our standard, "Ker & Downey, Rothschild Safaris, Micato Safaris, Extraordinary Journeys, Deeper Africa."
Carlos Cymerman founder of Recruiting for Good adds, "We love to reward single moms safari savings with any U.S. travel company that inspires people to participate in our referral travel reward service. We will reward savings with Infinite Safari Adventures, whose founder Alan Feldstein, has graciously participated in our community events."
About
Recruiting for Good, a fun cause based staffing company that has been connecting talented technical professionals to great jobs since 1998. Our mission is to help fund rewarding travel to see the world for good; to learn how visit RecruitingforGood.com.
Neferteri Plessy possessed a vision, passion, and spent a year gathering concerns from single mothers in her life; she launched Single Moms Planet, a nationwide movement and nonprofit designed to educate, empower, and up lift single mothers and their children. The Single Moms Planet motto from day one has been "Empower a Single Mom, Empower the World;" to learn more visit singlemomsplanet.com