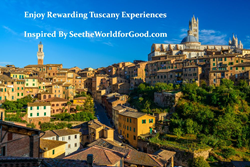 Join Recruiting for Good to Enjoy Tuscany Travel Rewards
Santa Monica, Ca (PRWEB) September 29, 2016
Recruiting for Good is rewarding single moms who successfully make executive referrals to help raise funds for nonprofit Single Moms Planet; will earn a $5,000 travel savings reward with the world's best adventure travel companies serving Tuscany.
Rewarding Travel Makes a Difference
According to Recruiting for Good founder, Carlos Cymerman, "These days, women are making about 80% of all the purchasing travel decisions; so we decided to help single moms save money too. Single moms simply make referrals to earn Tuscany travel savings and help recruiting for good fund nonprofit Single Moms Planet."
How Single Moms Participate and Earn Tuscany Travel Savings Reward
1) A single mom introduces an executive hiring professional staff.
2) Recruiting for Good finds the company a new employee.
3) A portion of the first fee earned is shared to donate $500 to Single Moms Planet, and $5,000 toward a company providing Tuscany travel.
The single mom who initiates the introduction can choose to donate a larger portion of the travel reward toward nonprofit Single Moms Planet; or gift the travel reward to anyone living in the U.S.
According to Recruiting for Good founder, Carlos Cymerman, "We love to reward savings with the world's best travel outfitters, that share our company's values; take care of customers, and are U.S. based. Moms who participate in our rewarding travel service, can gift a girlfriend or a daughter a Tuscany trip that they will never forget."
Rewarding Travel Savings with Bike Tour Companies
1) Backroads
2) BikeTours.com
3) BVT
4) Cycling Gourmet
5) Duvine
Rewarding Travel Savings for Foodie Tuscany Destinations
1) Amalfi Al Buon Gusto (Classic Journeys).
2) Cook Under the Tuscan Sun (International Kitchen).
3) The Chianti Masterpiece (Cooking Vacations).
4) The Passions of Emilia-Romagna (Food and Wine Trails).
5) Wine Food & Traditions of Tuscany (Nada's Italy)
About
Recruiting for Good, a fun cause based staffing company that has been connecting talented technical professionals to great jobs since 1998. Our mission every year is to help fund rewarding travel to see the world for good; to learn how visit RecruitingforGood.com.
Neferteri Plessy possessed a vision, passion, and spent a year gathering concerns from single mothers in her life; she launched Single Moms Planet, a nationwide movement and nonprofit designed to educate, empower, and up lift single mothers and their children. The Single Moms Planet motto from day one has been "Empower a Single Mom, Empower the World;" to learn more visit singlemomsplanet.com