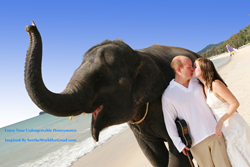 We love to use Recrutiing for Good to help single moms fund their kids' honeymoons
Santa Monica, Ca (PRWEB) September 30, 2016
Recruiting for Good is a social cause based staffing company rewarding referrals with travel. The staffing agency will reward 10 single moms and families who make referrals honeymoon travel savings.
Why Reward $5,000 Honeymoon Savings
According to an article on Honeymoon.com, "An average honeymoon is 7 days/6 nights, and the average price per couple is $5,000."
How to Earn Honeymoon Travel Reward
1) A single mom or family member introduces an executive hiring professional staff.
2) Recruiting for Good finds the company a new employee.
3) A portion of the first fee earned is shared to reward $5,000 toward a honeymoon trip.
According to Recruiting for Good founder, Carlos Cymerman, "We love to reward funding for honeymoon destinations that make a difference, one such trip is Honeymoons Israel."
About
Recruiting for Good, a fun cause based staffing company that has been connecting talented technical professionals to great jobs since 1998.