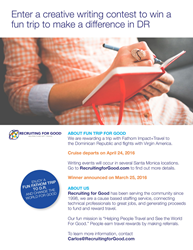 Happiness is Helping People Travel, Change, and See the World for Good
Santa Monica, CA (PRWEB) February 24, 2016
Recruiting for Good, a fun cause based staffing agency whose mission is "Helping People Travel and See the World for Good" launches creative writing contest to reward a 7 day Dominican Republic Fathom Caribbean Cruise for two people to make a difference and enjoy sightseeing. Rewarded trip includes round-trip flights.
According to Recruiting for Good founder, Carlos Cymerman, "in December 2014, Recruiting for Good sponsored a creative writing contest and rewarded a high school student in Santa Monica, who was completing his GED, a trip to the Superbowl. March's creative writing contest is open to teenagers and adults; and one person will win a fun Fathom trip to change and see the world for good."
Creative Writing Events Held Throughout Southern California
Recruiting for Good will host several events between March 1 and March 25 to give people a chance to participate. Events will be listed on the Recruiting for Good website. First confirmed event is being held at Baleen Kitchen in Redondo Beach March 5, between 3-4:30 pm. Writing entries will only be accepted in person at events. The winning entry will be judged on creative content, inspiration, and social impact by independent judges, that include; CircaSix, founder Robin Salter, and David Andersen Pianos, founder David Andersen.
ABOUT
Recruiting for Good, a fun cause based staffing company, whose mission is "helping people travel and see the world for good," has been connecting talented Information Technology and Engineering professionals to great jobs since 1998. Recruiting for Good rewards people who make referrals with fun global travel to enjoy or share with family and friends. Visit RecruitingforGood.com to start today.
Fathom Impact+Travel Cruises
Pioneered by Fathom, impact travel is a whole new category of travel: it's travel with purpose. Travel that transforms lives. Impact travel with Fathom provides the opportunity to build community with like-minded travelers, become immersed in another culture, and work alongside its people to create enduring social impact. For more information, visit Fathom.org
CircaSix
Founder Robin Salter offers workshop services and custom retreats for writers who are new to the group process or who work in an existing writing group and seek a new way to engage in the writing process together. To learn more visit CircaSix.com
David Andersen Pianos
Founder David Andersen has been a professional musician, recording artist, and piano technician/consultant for nearly four decades. He has been involved in the restoration and maintenance of hundreds of Steinway and Mason & Hamlin pianos during that time. To learn more visit davidandersenpianos.com