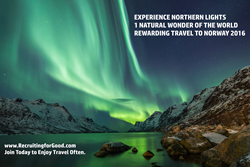 Join and enjoy rewarding travel to experience the Natural Wonders of the World
Santa Monica, CA (PRWEB) April 26, 2016
Recruiting for Good is rewarding 10 people a trip to experience the Northern Lights in Norway during New Years 2016 with Fuzeus Founder Kenny Warner.
According to Carlos Cymerman, Recruiting for Good founder, "We love helping people accomplish their travel bucket lists to experience and see the world for good. Big thanks to Kenny Warner for inspiring the Natural Wonders Bucket List Adventures."
Rewarding Natural Wonders Destinations
1) Norway, Northern Lights (New Years 2016)
2) Australia, Great Barrier Reef (New Years 2017)
3) Mount Everest in Nepal.
4) Victoria Falls in Zambia/Zimbabwe.
5) Grand Canyon in Arizona, USA.
6) Paricutin volcano in Mexico.
7) Harbor of Rio de Janeiro, Brazil.
How to Earn Bucket List Destination Rewards
Recruiting for Good finds technical professionals jobs with companies to generate proceeds and fund travel. People make candidate referrals to earn travel destinations.
1) A person simply participates by referring 1 person for 1 technical job to earn 1 travel destination.
2) Once Recruiting for Good gets the referred person a technical job with a company, and the person completes probation period (90 days after person starts new job).
3) Recruiting for Good rewards travel for 1 person to experience one of the Natural Wonder travel destinations listed our website.
About
Recruiting for Good, a fun cause based staffing company, has been connecting talented technical professionals to great jobs since 1998. Our mission every year is to reward people fun adventure travel to make a difference. People earn travel rewards by making referrals. Every successful candidate referral that leads to 1 person getting a job, equals one rewarded destination...1 for 1.
FuzeUs is a platform and community that connects Non-Profits and Brands, while engaging people to collaborate on socially conscious campaigns and daily activities. Through this FuzeUs delivers valuable marketing and engagement insights to Non-Profits, Brands, and Foundations by leveraging the platform's data and analytics. To build our grassroots community and increase socially conscious engagement, we introduced our monthly "Do Goodies" and ambassador program. Carlos Cymerman, founder says "Recruiting for Good works with FuzeUs to inspire participation and reward travel around the world," to learn more visit Fuzeus.com