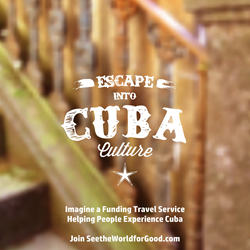 We are Using Recruiting for Good to Fund Gift Travel and Help People See the World for Good
Santa Monica, CA (PRWEB) February 11, 2016
Recruiting for Good, a fun cause based technical staffing company whose mission is "Helping People See the World for Good," launches service to reward candidates who are placed in tech jobs with Cuba travel.
According to Recruiting for Good Founder, Carlos Cymerman, "We are rewarding candidates we place in tech jobs travel, because it positively impacts their life. Cuba is now one of the most sought after destinations, and we love to reward people fun travel."
Helping People See the World for Good
Recruiting for Good uses placements to fund travel and fulfill fun mission. Candidates simply participate in Cuba travel reward service by submitting resumes for tech jobs. Once Recruiting for Good finds the technical professional a great job, and the person completes probation period; a Cuba travel destination is gifted.
Gifting People Fathom Cuba Trips
Recruiting for Good is rewarding Fathom Impact+Travel Cuba Cruises. The 7-Day Cuba Trips include cultural awareness workshops, personal enrichment training, and fun recreation activities on board. While on shore people have opportunities to participate in immersive cross cultural programs that make a difference.
ABOUT
Since 1998, Recruiting for Good a fun cause based staffing company has been connecting talented Information Technology and Engineering professionals to great jobs. Recruiting for Good rewards people who make referrals with travel to see the world for good; visit RecruitingforGood.com to start today.
Fathom Impact+Travel Cruises
"It's a new kind of cruise that combines your love of travel with your desire to make a difference." For more information, visit Fathom.org