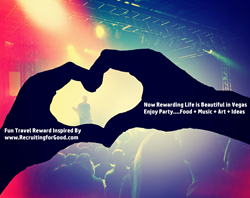 In life...'You Get What You Give'...participate today to Party for Good
Santa Monica, Ca (PRWEB) September 21, 2016
In an effort to inspire participation in community service, Recruiting for Good is rewarding people who volunteer in church, nonprofits, social projects, or schools and successfully make referrals; Music Festival weekends in Vegas.
According to Recruiting for Good founder, Carlos Cymerman, "In life, 'You Get, What You Give,' we love to use Recruiting for Good to reward people who 'Do Good'; fun travel rewards."
How People Enjoy Music Festival Rewards for Good
Recruiting for Good rewards people who have volunteered a minimum of 10 hours in the community in the last year.
1) Person refers a family member, co-worker, or friend for a job in information technology.
2) Recruiting for Good finds person a job, and person completes 90 days of employment.
3) Person who made referral earns an all-inclusive weekend for two people (flights, hotel, and tickets to festival). And a $100 donation is made to the charity of their choice (based in the U.S.).
Rewarding Vegas Music Festivals in 2017
1) ACM Party for a Cause
2) Electric Daisy Carnival
3) Exodus Festival
4) i Heart Radio Music Festival
5) Las Vegas Soul Festival
6) Life is Beautiful
7) Punk Rock Bowling and Music Festival
8) Reggae in the Desert
9) Rock in Rio
10) Wine Amplified
About
Recruiting for Good, a fun cause based staffing company that has been connecting talented technical professionals to great jobs since 1998. Our mission every year is to reward people who make a difference travel to see the world for good; to learn how visit RecruitingforGood.com.