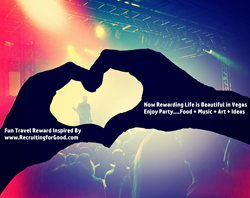 We Reward People Fun Travel to See the World for Good
Santa Monica, CA (PRWEB) February 16, 2016
Recruiting for Good, an IT staffing agency whose mission is "Helping People Travel to See the World for Good," now rewards candidate referrals with all-inclusive Vegas trips to enjoy food and music festivals.
According to Recruiting for Good Founder, Carlos Cymerman, "We are using recruiting placements to fund and reward candidate referrals with fun travel. Referrals enable us to use our company for good. We are rewarding travel to fun festivals like 'Life is Beautiful' in Vegas; because the festival combines music, food, art, and ideas that inspire people to enjoy life and see the world for good.'"
How People Earn Vegas Travel Rewards
A person simply participates in the Vegas travel referral reward service by referring a family member, friend, or co-worker who is looking for a technical job to Recruiting for Good. Once the referred person finds a job with Recruiting for Good's help, and the referred person completes the probation period; Recruiting for Good rewards the person (who initiated the referral) an all-inclusive Vegas festival weekend for two people that includes flights, hotel accommodations, and event tickets.
Recruiting for Good Founder, Carlos Cymerman adds, "We created the service to help more families and friends every year; enjoy travel and see the world for good."
Travel Reward Makes a Difference
Rewarded Vegas trips are fun positive life experiences that family and friends can share. In addition, people who initiate the candidate referrals can donate, gift, or pay forward the travel reward to anyone living in the United States, and that also makes a difference.
ABOUT
Recruiting for Good, a fun cause based staffing company, whose mission is "helping people travel and see the world for good;" has been connecting talented Information Technology and Engineering professionals to great jobs; since 1998. Recruiting for Good; rewards people who make referrals with fun global travel to enjoy or share with family and friends. Visit RecruitingforGood.com to start today.