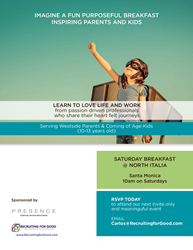 Breakfast with a purpose inspires parents and kids to learn...love life and work
Santa Monica, CA (PRWEB) July 25, 2017
Recruiting for Good, a fun social staffing company, is sponsoring meaningful, invite only breakfasts to inspire Westside parents and kids; learn to love life and work. Inviting passionate professionals to speak about their heartfelt journey in an intimate setting.
According to Recruiting for Good Founder, Carlos Cymerman, "Stories told and shared have an infinite and long lasting positive impact on parents and kids alike. When we love what we do for work, our relationships flourish, we grow from within, and party for good."
About Breakfast with a Purpose
The purpose is to serve Westside parents and 'Coming of Age Kids' who seek to learn about careers and professions in an intimate setting; from passionate successful professionals who care.
Chosen passionate professionals will be from every walk of life; giving kids access to what it takes to find passion and love work, and become experts in the perspective field. Breakfast will be held at North Italia in Santa Monica, on Saturdays.
To reserve a spot for the next upcoming sponsored invite only breakfast email Carlos(at)RecruitingforGood(dot)com
Carlos Cymerman adds, "By inspiring positive work habits, we can inspire kids that working hard, pursuing excellence, and finding fulfillment thru service...in any profession is possible. Join our mission to prepare kids for tomorrow's jobs; thru inspiration, sharing stories, and fun celebrations."
About
Recruiting for Good is a fun social staffing company that has been connecting talented technical professionals to great jobs since 1998, using recruiting placements to sponsor fun celebrations, creative writing contests, and 1 on 1 mentoring services. To find the best talent often, find your next kick*ss job and party for good, email Carlos(at)RecruitingforGood(dot)com