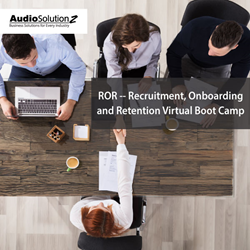 Screen Top Talent and Guarantee Their Success.
DURHAM, N.C. (PRWEB) September 11, 2018
AudioSolutionz, a division of audio conference and corporate education leader ProEdTech, will host this live HR boot camp "Recruitment, Onboarding and Retention Virtual Boot Camp" with business management consultant Marcia Zidle on Thursday, September 27, 2018 at 10:00 AM ET.
Hiring a talented and driven team is every manager's goal. But the competition for top talent can be brutal. And keeping the employees engaged and motivated is even a bigger challenge. It's time to think outside the traditional HR recruitment and retention box, become more agile and dynamic with the hiring strategies—and learn how to appeal to millennial workers.
In this 240-minute recruitment training boot camp, business management expert Marcia Zidle will reveal a straightforward process to streamline the hiring, onboarding, and retention strategies and align them with the set business goals. Zidle will share tips to help attendees to become a talent magnet that attract the best candidates—and also help ensure long-term relationships with the employees.
This HR boot camp is a must for anyone involved in recruitment and employee management—at any level—because the takeaways can be game changing for any organization's productivity, workplace culture, and future success. This webinar will show attendees how to reduce the costs (both financial and administrative) of employee turnover and use best practices to create—and retain—a top-notch team.
The onboarding, retention and recruitment training boot camp will provide insights to managers, supervisors, HR professionals and other department heads on how to:

Use "behavioral interviews" to go beyond the resume to assess real capabilities
Avoid the 7 top interviewing mistakes that managers (even experienced ones) make
Develop a sound selection criteria and rating system to find the right fit
Recognize the difference between orientation and onboarding (you need both)
Master the four C's of an effective onboarding program: compliance, clarification, culture, connections
Answer the 5 key questions new employees commonly ask (if you can't, you risk disengagement)
Recognize 4 possible "triggers" that cause employees to quit
Conduct "stay interviews" to quickly reveal employees' motivators and de-motivators
Use 5 management techniques to improve communication (especially with millennials)
For more information and to register, visit: https://www.audiosolutionz.com/virtual-bootcamp/recruitment-onboarding-retention
Get $40 off on our conferences and webinars. Use Code PRWEB40 on checkout (applicable for all purchases).
About ProEdTech
ProEdTech is a leading source of knowledge and training for professionals in over 15 industries, serving individuals, businesses and their employees around the globe. It offers webinars, online conferences, seminars, boot camps, books, DVDs, white papers, industry reports and other learning tools from industry experts and insiders who provide a fresh perspective on key issues, trends and regulations in order to simplify governance, risk and compliance (GRC) for enterprises and industry professionals. ProEdTech's AudioEducator webinars offer updates, regulatory knowledge and information on the latest news in various medical specialties, as well as coding and billing updates, and analysis of regulations that affect ambulatory surgical centers, home health, long term care and hospice facilities, hospitals and healthcare systems, health insurers and physician practices. Webinars are also offered through AudioSolutionz in the technology, human resources, construction and housing, ICT and telecom, manufacturing, consumer packaged goods and retail, safety and security, transportation, energy and environment, education, trade, and chemicals industries. ProEdTech's Eli Financial platform offers tax and banking professionals, focusing on providing high-quality online training products customized for U.S. lenders and tax practitioners that include the latest updates from the IRS, CFPB and other regulatory authorities. ProEdTech regularly provides professionals the opportunity to get answers to their most complex questions directly from experts, without having to attend costly live conferences. To learn more, visit: http://www.proedtech.com/.