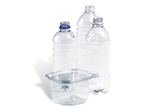 Madison, WI (PRWEB) July 23, 2015
CEO Dan Mohs and new product development manager Megan Moore of Placon, a leading designer, thermoformer and recycler of plastic packaging products, will discuss the challenges and opportunities of designing sustainable plastic packaging with shelf appeal in an informative webinar titled: High Impact Packaging–Zero Waste by Design.
More than ever, packaging companies have become integral partners with consumer goods manufacturers in the effort to meet their sustainability goals for zero waste. Expert knowledge of recycled materials and material recovery are key components for designing packaging that minimizes waste. The webinar will cover steps in achieving sustainability objectives and insight into incorporating recyclability into thermoform packaging design.
The High Impact Packaging–Zero Waste by Design webinar is taking place on Tuesday, July 28, 10 AM CST and is free to attend.
ABOUT PLACON
For over 45 years Placon has been a leading custom and stock designer, thermoformer, and injection molder of plastic packaging products for the retail, medical and food markets with a line of environmentally-friendly recycled EcoStar® PET rollstock products for thermoforming applications. Continuously setting the bar in plastic packaging and sustainable material solutions, Placon provides innovative, high quality and safe packaging that harnesses the power of tomorrow's technology and design to solve customers' challenges today.