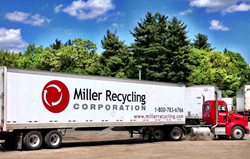 Mansfield, MA (PRWEB) May 19, 2014
Miller Recycling Corporation will be hosting its fourth annual E-Waste and Appliance Recycling Event on Saturday, June 7th for the proper disposal and recycling of obsolete electronics and appliances. The event is scheduled to take place at 73 Plymouth Street in Mansfield, MA, on June 7th from 8 a.m. to 2 p.m.
Miller Recycling will be accepting the following items at no charge:
computers, power supplies, telephones, fax machines, printers, keyboards, cell phones, gaming systems, as well as all types of house hold appliances. (washers, dryers, stoves, etc.)
The following items will be taken for a fee:
TV's/Monitors (any Size) - $8.00 each
Wood TV's (any size) - $15.00 each
Freon units (AC's/Refrigerators) -$ 5.00 each
Residential & Commercial. Everyone is welcome!
for more details contact Maria at 1-800-783-6766, ext. 111 to schedule large drop offs. (docks are available for large trucks and trailers) Information is also available via email at info(at)millerrecycling(dot)com.
For more information on Miller Recycling and its ongoing recycling services visit them at http://www.millerrecycling.com.
When: June 7th, 2014
Time: 8:00 am – 2:00 pm
Where: 73 Plymouth Street Mansfield, MA 02048
About Miller Recycling Corporation
Operating since 1940, Miller Recycling is a fourth generation company with the experience required to assist both residential and businesses with all electronics, paper, plastics, and metal recycling needs. Northeast Data Destruction, our NAID "AAA" Certified confidential shredding division, will securely process all sensitive documents, files, media, hard drives, tapes, CD's, off spec products and storage components.