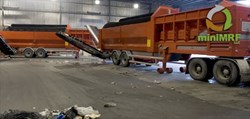 We take your existing solid waste management system and plug in our existing recycle sorting solution
Cleveland, Oh (PRWEB) November 19, 2013
Steven M. Viny, the CEO of Envision Holdings, will be speaking at the Renewable Energy to Waste conference later this month. The conference, which will be held in West Palm Beach, Florida from November 18 to 20, 2013, will discuss a variety of hot button industry topics such as mixed waste processing, Engineered Fuel (EF), composition, quality control, applicability, and market acceptance.
At the conference, Viny will provide his expertise on mixed waste processing methods. This processing method, also known as Dirty MRF, is a way to separate recyclables, composables, and Engineered Fuel from unsorted waste. Viny's knowledge of mixed waste processing stems from his experience as the Chief Executive Officer of Envision Holdings, a company that encompasses Envision Waste Services, Envision Realty Group, Columbia Technologies, and miniMRF, LLC.
MiniMRF(TM) is dedicated to providing state of the art recycling/waste diversion technology to the public. The product's innovative solutions include composting, waste-to-energy, recycling, Engineered Fuel production, and sustainability position resources. The miniMRF(TM) can be used as a standalone system, or as a front-end processing system, for conversion technologies or coal fire boilers.
According to an article available on the company's website, the miniMRF(TM) is designed to generate value by diverting recyclables, composables, and Engineered Fuel from landfills. To do this, the miniMRF(TM) uses automation to capture aluminum beverage cans, steel cans, paper, plastics, and other reusable materials from the residential municipal solid waste stream.
"We take your existing solid waste management system and plug in our existing recycle sorting solution," noted the article. "We are positioned as a viable solution to keep your community clean and environmentally friendly. MiniMRF(TM) is designed to remove ferrous and nonferrous metals, glass, organics and an EF fraction, all of which can achieve a high rate of landfill diversion."
Individuals interested in learning more about Mr. Viny, his appearance at Renewable Energy to Waste Conference, or his work with miniMRF(TM) can visit the company's website for additional information at http://www.minimrf.com.
About miniMRF(TM):
MiniMRF(TM) builds and operates innovative technology designed to remove ferrous and nonferrous metals, glass, fiber, plastics, organics, and an Engineered Fuel fraction to achieve high rates of solid waste diversion. This mixed waste processing facility is positioned downstream to recover materials that have already eluded traditional recycling programs and are otherwise destined for landfills. For more information, please visit http://www.minimrf.com