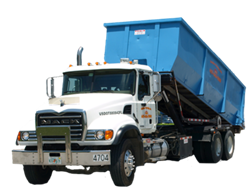 Recycling debris quickly and efficiently is of the utmost importance on a construction site.
Orlando, FL (PRWEB) December 10, 2014
Sunshine Recycling, a premiere roll off dumpster rental company in Orlando, is supplying a construction company with their services for a new restaurant development site in Clermont, Florida. The project began in November and is expected to finish next year.
The contractor in charge of the construction site is Schmid Construction, a general contractor located in the Southeast that works on a variety of projects like franchise restaurants, retail establishments, automobile dealerships and industrial distribution centers. Like Sunshine Recycling, they are a LEED certified company and are committed to working in the most energy efficient and environmentally friendly way.
The restaurant being constructed is named Culver's, which first opened in 1984 in Wisconsin and is labeled a "fast-casual restaurant." As opposed to fast-food restaurants, fast-casual restaurants do not offer full table service but provide higher-quality meal options with less frozen or processed ingredients. As of this year, there are over 500 Culver's restaurants in the country and Culver's first Florida location was opened in 2013 in Naples. Their staple menu items are the ButterBurger and their frozen custard, which can be turned into Concrete Mixers.
Sunshine Recycling is providing the construction site with several roll off dumpsters as well as their hauling services. Recycling construction debris properly and in an environmentally friendly way is of the highest priority. Roll off dumpsters are the ideal product for construction sites, as they are manufactured to withstand the heaviest of materials including concrete, brick and asphalt. Hauling services are also being provided several times each day to ensure there is no delay on turnaround. Sunshine is also supplying the construction site with portable toilets.
"Recycling debris quickly and efficiently is of the utmost importance on a construction site," said Chuck Herb, owner of Sunshine Recycling. "Our services ensure that these sites are capable of being completed on time and on budget."
About Sunshine Recycling of Orlando:
Sunshine Recycling Inc. of Orlando is a dumpster rental company servicing central Florida. Offering various sizes of dumpsters including front-load, roll-off and full-size construction dumpsters, Sunshine Recycling also provides recyclable, waste and construction debris collection and hauling services and trash compactors. The company is a proud member of the U.S. Green Building Council and is LEED AP certified. For more information about construction dumpsters from Sunshine Recycling, please visit http://www.orlando-dumpsters.com/construction-dumpsters/.