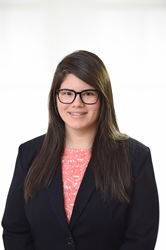 We are excited to welcome Melissa Ayluardo to Red Banyan's growing team of top-notch professionals.
Deerfield Beach, FL (PRWEB) June 26, 2017
Leading strategic communications firm Red Banyan today announced that it has hired Melissa Ayluardo as a senior social media manager. In her new role, Ayluardo will be responsible for developing and implementing a variety of effective social media strategies for a number of the expanding agency's clients.
With extensive experience in both in-house and agency setting, Ayluardo has successfully managed social strategies and campaigns across a variety of industries, including technology, healthcare, food and beverage, hospitality, publishing, higher education, and professional sports industries. She received her undergraduate degree in Hospitality Management from University of Central Florida and a Master in Business Administration from Nova Southeastern University.
"We are excited to welcome Melissa Ayluardo to our growing team of top-notch professionals," said Red Banyan Founder and Principal Evan Nierman. "Social media has become an integral facet of effective public relations, and I am sure that Melissa's extensive experience and deep knowledge of the social media sphere will serve as valuable assets for the agency and our diverse roaster of clients."
Ayluardo added: "I'm thrilled to be joining such a talented team. I've always had a passion for humanizing brands through strategic social media communications, and I look forward to helping Red Banyan's clients achieve their social media marketing goals."
Since its launch in 2010, Red Banyan has emerged as a top strategic communications agency in the United States. With offices in Florida and Washington, D.C., Red Banyan provides public relations and crisis management counsel to an array companies and organizations nationally and across the globe.
About Red Banyan
Red Banyan is a top public relations agency with clients across the country and internationally. With offices in Florida and Washington, D.C., Red Banyan combines a substantive understanding of complex issues with the experience and skills needed to execute campaigns that deliver results. Specializing in crisis communications, corporate public relations, government relations, and legal PR, Red Banyan provides an integrated approach to communications rooted in strategy. Learn more at http://www.redbanyan.com, become a fan on the Red Banyan Facebook page and follow the firm on Twitter, Google+ and LinkedIn.